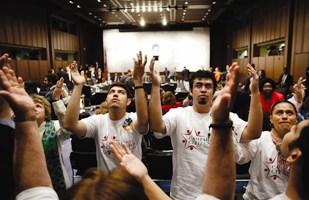 Hopes are fading that the immigration reform bill will allow H-1B visa holders' spouses who are on H-4 status to work legally in the United States.

"They would only be able to apply for a work permit," explained Philadelphia-based immigration attorney Akanksha Kalra, "if there is a reciprocity with their home country. That is, (if) the H-4 visa holder is a national of a country that allows spouses of US citizens to work in that country."

India has no work visa similar to the H-1B, nor a reciprocal arrangement with the US. India does not provide employment authorisation to spouses of those who hold an Indian employment visa.

"It is important to note," Kalra continued, "that no such reciprocity is required for L-2 spouses of L-1 visa holders (for intra-company transfers), who are eligible to apply for employment authorisation to work in the US.

"Spouses of E-1/E-2 visa holders are also allowed to apply for employment authorisation in without any such restrictions.

"Why are we treating H-4 spouses differently? Why is America demanding reciprocity for H-4?"

Testifying on the immigration bill, Microsoft General Counsel Brad Smith said H-4 spouses tend to be 'well educated . . . and able to contribute productively to the economy.' Prohibiting them from working, he said, causes financial, personal and other hardships for employees and causes recruitment and retention problems for employers.

'Individuals on H-4 visas pay a heavy price for the privilege of living in the US and being with their spouses,' immigration attorney Tahmina Watson told the Seattle Times. 'The restrictions on their daily lives are almost oppressive.'

Ira Mehlman, spokesperson for the Federation for American Immigration Reform, provided the opposing view: 'The condition under which you agree to come to this country is that you can bring your spouse but they're not eligible to work. 'We need to hold people to the bargains they make.'

Currently, those on H-4 can apply for student visas or H1-B visas.

When their spouse's Green Card application reaches the approval level, they can apply for work permit.

But that is a 5 to 6 year wait.

"The situation of a woman having to rely on her husband alone for support is a fertile ground for abuse and violence to occur," said Lakshmy Parameswaran, founder of the Houston-based women's organisation Daya. "While most of the guest workers and their spouses do well by making the best of their stay in the US, a number of spousal violence victims seeking help from South Asian women's organisations like Daya in Houston are H-4 spouses," Parameswaran said.

"The dependent status contributes to the disempowering of a group of immigrants who could otherwise contribute to the welfare of this society.

"Their status prevents them from seeking employment in this country and, depending on the states they reside in, it also prevents them from obtaining a social security card, a driver's license or open a separate bank account."

"Thus the potential of a group of young, qualified individuals is wasted surfing the Internet and watching television during their tenure in the US."

Parameswaran cited the example of Shalini (not her real name).

Six years ago, Shalini followed her engineer husband to the US, where she, a healthcare worker, became a dependent.

The abuse began a year later when the couple had their first child.

Shalini attributed his behaviour to her jobless status and the additional responsibility of a child in their lives.

In early 2012, after a violent episode when her husband attempted to kill her, Shalini sought help from Daya.

From calling the police to testifying in court, Shalini followed the protocol which made her eligible to file for a U-visa, given to victims of violence who cooperate with the law in bringing the perpetrator to justice.

Her U-visa is still pending. She was not given work authorization that would have enabled her to support herself and her child.

Although her status is legal, Shalini does not qualify for any benefits, nor does she have a cent to her name.

If it weren't for Daya, Shalini and her child would be on the streets.
Image: Supporters for immigration reform from the group Campaign for Citizenship say a prayer prior to the start of the reform bill's mark-up before the Senate Judiciary Committee on Capitol Hill, May 9 | Photograph: Win McNamee/Getty Images