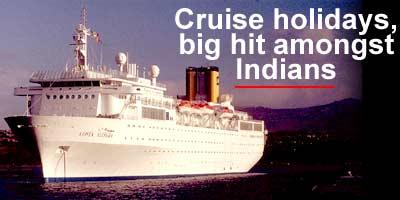 Businessman Rohan Aggarwal and his wife Natasha fig7ured it would be the perfect way to escape constantly ringing mobile phones and the other annoyances of modern-day life.
So, they flew to Singapore and boarded a Star Cruise liner that sailed to Langkawi and Phuket, and then back to Singapore. For four days, they enjoyed the sun and sea combined with good food and activities like lessons in Spanish dancing.
Says Rohan: "We thought of going on a cruise for it is the perfect way to relax. It's luxurious and at the same time a lot of fun."
Cruise holidays were once considered out of reach for all but the most affluent Indians. Now an increasing number are putting a high-seas expedition on the holiday agenda. About 30,000 Indians went on cruises last year and the numbers have been rising by 25 per cent annually.
The result is that at least 10 of the world's top cruise companies have opened offices in India and the others can be contacted through any big travel agent.
Says Mahesh Shirodkar, COO, SOTC, "Indian customers have come to recognise value for money in the cruise product as well as enjoy the convenience and comfort such a travel variation offers. More importantly, they relish the experience."
About 30 years ago, a cruise ship usually sailed to sun-drenched parts of the globe like the Mediterranean or the Caribbean. Today, you can take a cruise to almost any part of the world including Alaska, the Caribbean, Hawaii, the Mediterranean, South East Asia and the Mexican Riviera.
However, it must be mentioned immediately that there is one big catch. There are hardly any cruises that start from India and so you must fly to the port of boarding. That adds considerably to the cost of the entire holiday.
For instance, the Royal Caribbean Celebrity Cruise from Vancouver to Alaska and back costs between $1,020 and $4,470 per person (depending upon the category of accommodation) for a seven-night cruise. However, flying to Vancouver from India is likely to cost anywhere around Rs 60,000 per person.
Another option is taking a cruise from Europe. Flights to European countries are cheaper. For instance, you could take a 12-night Royal Caribbean Celebrity Mediterranean Cruise which starts from Barcelona, Spain and after making calls at Nice in France, Florence, Rome and Naples in Italy, Mykonos, Santorini and Athens in Greece and Dubrovnik in Croatia, finally anchors at Venice, Italy. The cruise costs between $1,820 and $7,020.
The routine is that passengers spend a whole day at each port of call. In most itineraries the ship arrives at a port early in the morning and leaves at seven or eight in the evening.
If you don't want to spend an entire holiday at sea there are combo offers. Star Cruise has tied up with SOTC Holidays to provide packages to the US and South East Asia.
For instance, you can take a 12-day package to the US where you will visit New York, Washington DC, Niagara Falls and Orlando. To this you can add-on a 4-day cruise to the Bahamas.
The total trip which includes return economy airfare, hotel accommodation, meals, sightseeing, visa charges, airport taxes, coach tours, transfers, entrance fees and surface transportation will cost Rs 113,800 per person.
Similarly, you can take a 12-day package to South-East Asia where you visit Bangkok, Pattaya, Kuala Lumpur, Genting Highlands and Singapore. After you've done all that it might be time for a three-day Star Cruise from Singapore to Port Klang. The total holiday package costs Rs 68,435 per person.
However, if it's luxury you are after, take a cruise on the Cunard Lines Queen Mary 2. The ship is the world's largest, longest and tallest ocean liner. At a height of 236 feet, it is higher than the Statue of Liberty.
The Queen Mary 2 has four restaurants, four bars, a cigar lounge, a spa, a casino, night clubs, a computer centre, the largest ballroom at sea, the first planetarium at sea and an art collection worth $5 million.
Of course, a holiday on this ocean liner does not come cheap. A 12-night cruise of the Mediterranean starting from Athens, Greece and making calls at Rome and Florence in Italy, Marseilles in France, Barcelona, Malaga and Cadiz in Spain and Lisbon in Portugal, finally arriving at Southampton in England, costs between AUD 4,689 and AUD 59,699. That's between Rs 164,115 and Rs 2.89 million!
For Rs 28.9 lakh you get to stay in a Grand Duplex which is the most lavish suite afloat. It has a living room with an upstairs bedroom, an oversized balcony and two bathrooms which have their own separate whirlpool tubs and showers.
Bookings on any of the cruise liners need to be made at least a month in advance. However, there are often early bird discounts and by booking three months to six months in advance, you can save around 20 per cent to 30 per cent.
The cruise price is all-inclusive. The only additional expenditures are the tips that you must give. On most cruise liners, tipping is compulsory and depending upon the cruise liner and your accommodation, you may be required to tip between $10 and $15 per day.
Powered by