The American confectioner has finally paved the way for the launch of its brands by buying out Godrej from its India joint venture.
Like its nemesis Kraft, American chocolate maker Hershey's has struggled to find its foothold in India, despite being around for five years. Kraft, too, which is the second-largest foods company in the world after Nestle, struggled for almost a decade before finally settling for a $19.7-billion deal to acquire Cadbury in 2010.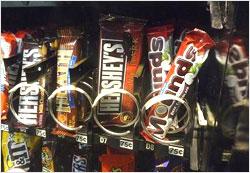 The acquisition ensured Kraft got the much-needed gateway to India - something it had been seeking for long. Hershey's has also found a way out in an effort to ramp up its presence in the country - by simply opting to buy out the balance 49 per cent stake in its five-year-old joint venture with the Godrej Group.
This way it has full control of operations in the country securing its presence in a market it considers key. J P Bilbrey, president & chief executive officer, The Hershey Company, had said at the time of the announcement to buy out the 49 per cent stake in Godrej-Hershey's, "India is a key focus market for the Hershey Company. Our partnership with Godrej provided us with the insights and understanding of consumers and customers in India."
Mathew Lindsay, managing director, Hershey India, had said, "With this new phase of the Hershey business in India, we aim to drive growth in this important market through product innovation, brand building and investment in our people and processes."
But while Kraft and Hershey's were united in their struggle to find their feet in a market they considered key, their roadmaps to grow here will be different. Kraft has used the strengths of Cadbury to relaunch brands such as Oreo, Tang and Toblerone - all of them different products - one a cookie, the other, a powdered beverage, and the third, a premium chocolate.
In chocolates, it calls the shots with a 70 per cent share of the market. In confectionary, it has a decent presence in a market that is fairly fragmented.
Hershey's then, say experts, will have to differentiate itself, if it has to grab share especially in chocolates - a Rs  3,000-crore market in India. Bilbrey had added at the time of the stake-buy announcement, "Confectionery and beverage category growth in India is solid and we're excited about our opportunities. We'll make the necessary investments in India to accelerate growth, leveraging our core strengths and business model."
But is it as easy as it seems? In confectionary, Hershey's has Indian brands such as Nutrine and Maha Lacto, which according to persons in the know, contributes over half of the nearly Rs 400-crore turnover of the joint-venture company, which will soon be rechristened Hershey India. The balance comes from brands such as Jumpin and Sofit.
But persons in the know say they are not very large, though brands such as Sofit, which is a soya-milk drink, shows enormous potential in a market that is increasingly opting for healthier options. Jumpin, on the other hand, competes in the juice-drink space dominated by the likes of Frooti, Maaza, Slice etc. This market is not easy to crack given the presence of well-entrenched players.
The only product from the Hershey's stable that was part of the JV was Hershey's Syrup, which is a niche product.
A mail sent to Lindsay seeking replies to how the company's proposed to move now that it had full control of operations in India, elicited no response till the time of going to press.
But persons in the know say that Hershey's focus will be on chocolates and confectionary. Beverages will be its second priority and the company is likely to selectively invest in this area to step up its presence.
While there has been some speculation in the marketplace about the likely date of launch of Hershey's chocolates, market experts say that it is not likely to happen in this calendar year. Brands such as Hershey's Chocolate, Kisses and Reese's may dot Indian shop shelves in the next calendar year, since the company unlike Kraft will have to build on distribution and supply-chain prior to launch. And this is likely to take time. Even Kraft took almost a year to integrate and roll out Oreo following the Cadbury acquisition in 2010.
Like Kraft, however, which did keep Indian tastes in mind when relaunching Oreo, even ensuring the name Cadbury figured on the biscuit pack to help consumers identify the product as coming from the same manufacturer that produced Cadbury chocolates, Hershey's too is likely to tweak with its chocolates to suit Indian tastes.
Traditionally American chocolates tend to be bitter than their European counterparts. And Indians thanks to Cadbury's have preferred sweeter rather than bitter chocolates. This is not likely to be lost on Hershey's.