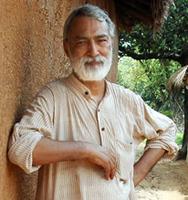 Deep Joshi retired from the rural development NGO Professional Assistance for Development Action two years ago, but it took him nearly a month to find time for Lunch with BS.
That wasn't because he was caught up in the hoopla of being awarded the Ramon Magsaysay award for 2009 -- that's not his style. He's still a consultant for the NGO he co-founded in 1983, a designation that keeps him as busy as any high-flying corporate executiverite.
He's in Bangladesh one week, the interiors of India the next before winging off to Manila to receive what is considered Asia's equivalent of the Nobel Prize.
On the venue, an issue on which most of our guests expend some thought, he sends a hurried email: "I am not a restaurant-type and have no idea about where to go. So, please do me the favour and choose a . . . quiet place where one is able to get idlis. "
Joshi selects one of two options, then suggests meeting at the PRADAN office: "We can send for idlis from across the road, then we can talk at leisure." Idlis are not my favourite food but I heroically agree in the line of duty, weakly reminding him that Business Standard was supposed to pay for the lunch, a stipulation he brushes aside.
Joshi in his habitat is strikingly different from the Joshi I have met on social occasions. In the latter, he talks sparingly, considerately smoking near an open door or window and makes a peg of rum go a long way. At the PRADAN office, set above a fashionable veterinary clinic, the 63-year old is brimming with the enthusiasm of a 20-year-old. Rural development isn't just a professional occupation; in his case it's no cliché to say it's a passion.
A helper arrives with four idlis, sambar, coconut chutney and a small carton of dahi and since it's past 1 pm, I wolf down two of them. Joshi, a negligible eater at the best of times, takes the other two with coconut chutney, but rejects the sambar. "Spice makes you sleepy," he explains (this is news to me).
Joshi has just returned from Manila where he was overwhelmed by the scale of the Magsaysay bandobast and the rock star-like attention he received, signing hundreds of autographs and posing for photographs with random fans. "I was amazed, it really is a big thing," he exclaims. But it is, I point out; didn't he feel great about getting this award? "Well, it may have been good for my 'career' when I was 25 or 30 but at my age, what difference does it make," he answers. 
He's happy, though, that the award acknowledged the concept of PRADAN. "The concept of professionals working in villages to promote livelihoods was pretty audacious in the eighties," he says, "In those days you only had a few people who thought that way, like Bunker Roy and Anil Sadgopal."
Today, PRADAN recruits from about 80 campuses, which range from rural universities and Institute of Rural Management Anand to the IIMs, via a systematic, decentralised system that was put in place in 1993.
Those who sign up have to go through a one-year apprenticeship that includes hands-on learning and requires living for 15 days with a poor family in a village after which they undergo a 360-degree assessment.
The starting salary for those who are confirmed is Rs 15,000 to Rs 16,000 (that is, cost to company), though Joshi says it costs more than Rs 200,000 to train someone to become an executive.
Joshi, who founded PRADAN with Vijay Mahajan, later founder of micro-finance NGO BASIX, has also walked the talk since he holds degrees from MIT and Sloan School, qualifications that could have won him a high-paying job in a multinational in the late seventies.
He is, however, bemused when the media highlights this fact, since he didn't harbour such ambitions in the first place. "I went to the US to do mechanical engineering so that I could be a good professor," he says.
When he returned, he worked briefly with the NGO Systems Research Institute, which sent him to Ahmednagar to evaluate a project run by a couple called the Aroles.

"There I found Mabel Arole, with a degree from John Hopkins University, sitting on the floor talking to women she had trained on a rural health community programme," he recalls.
That experience, he says, was the turning point for him, convincing him of the need to work as an enabler in rural communities. "What I learnt from Mabel was the 'empathy' element. She worked with 200,000 women and they were all 'didis'. It was easy for me to talk to local people because I come from a village," he explains.
Since Joshi worked as a programme officer with Ford Foundation before setting up PRADAN, I tease him about how it was viewed as a CIA front in the eighties. He laughs recalling how Prakash Karat wrote a pamphlet in 1987 accusing various organisations -- including PRADAN -- of taking money from the World Bank when that was obviously not possible (World Bank funding is government-to-government). Incredibly, Karat also listed NDDB among these NGOs.
By now Joshi's eaten about half an idli. We move on to the rural employment guarantee scheme and I expound on my newspaper's opinion that it's an expensive boondoggle.
Joshi thinks it's the execution that's poor. "For National Rural Employment Generation Act, the village gram sabha or panchayat is supposed to plan a shelf of projects but in practice this is not happening," he says. That's because except for token meetings on 26 January or 15 August, most gram sabhas do not convene.
But, he points out, there is widespread knowledge of the scheme, even in the most remote villages. "What people don't know is that they have a right to demand that work. They think it's a case of kaam khulega to kaam milega" (I'll get work when there is work to be done).
And he thinks the alternative proposal for direct cash transfers is a 'lousy idea' for several reasons.
First, he says, people have a sense of dignity and were unlikely to jump at handouts, whereas NREGA is not a dole.
Second, rural bank branches through which these transfers would be distributed are notoriously inefficient and corrupt. Third, people desperately need work and NREGA presents a unique opportunity to transform the rural landscape.
He also strongly disagrees with the argument that faster growth will automatically guarantee jobs. "The market does not have a heart. Kahaan market, kahaan aadivasi." (where is the market and where is the tribal).
His argument runs thus. The 2001 census showed that about 25 per cent of India's population comprises scheduled castes or tribes and their level of education was very poor.
Now, assume that a tribal who was 14 then will join the workforce today, "then you're getting a large rural population that is functionally illiterate and cannot be employed within the urban industrial system. But they are not going to vanish."
On the other hand, he says, rural India needs a lot of investment in land and water resources -- he estimates about Rs 200,000 crore (Rs 2,000 billion) to Rs 300,000 crore (Rs 3,000 billion) just to transform India's rainfed areas and NREGA provides this potential in addition to providing meaningful employment for illiterate people. 
"Tata Steel bought Corus for $12 billion, that's about Rs 60,000 crore (Rs 600 billion). It would need five Coruses to transform India's rain-fed area over a ten-year period," he reasons.
We've been chatting for almost two hours and I give Joshi a chance to finish the remaining one-and-a-half idlis and his daily quota of dahi.
To keep the conversation light, I ask him what he did in his spare time. He thinks hard and returns a lame answer about reading the odd magazine and going for walks. I point out that he's awfully busy for someone who's retired.
"Well, I don't get a pension, so I have to work," he replies. It's an excuse, I suspect, that comes in handy for someone who is a compulsive workaholic.
Image: Deep Joshi