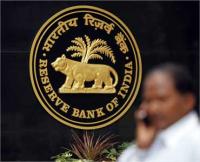 Growth seems set to return as the key mantra when the government will come out with its mid-quarter review of the Reserve Bank of India's monetary policy, sources said on Thursday, sensing the "underlying thinking" in the finance ministry.
A senior official with the ministry said growth would "now take the centre-stage" with a cool-down in prices.
"Even so, inflation still remains a matter of concern," he said.
On Wednesday, RBI governor D Subbarao met Finance Minister Pranab Mukherjee.
The central bank's head was reportedly briefed about the ministry's view on the matter.
Another official said on Thursday that the administrative circles did now expect a major change in the RBI's stance immediately. That apart, the RBI governor "may make" a move in the direction tomorrow, he claimed.
The review announcement comes close on the heels of news breaking that the October industrial growth registered a negative 5.1 per cent growth - the lowest figure in more than two years.
This has raised serious concerns across the board, triggering fears of a re-run of the gloomy economic scenario after December 2008, when a global financial crisis led to contraction
in industrial production for seven months in a row.
Further, economic growth fell to nine-quarter low of 6.9 per cent in the second quarter of this fiscal.
With 7.7 per cent growth in the first quarter, this has delivered 7.3 per cent growth in the first half.
The finance ministry hoped the second half would witness a slight recovery compared to first, so that overall growth this fiscal would be 7.5 per cent.
However, in the current scenario, experts feel the growth will be below seven per cent in 2011-12.
The overall inflation fell to a one-year low of 9.1 per cent in November from 9.73 per cent in October.
But, inflation has been over nine per cent for a year now.
Food inflation, on the other hand, has been coming down quite fast. It stood at just 4.35 per cent for the week ended December 3.
Chief economic adviser Kaushik Basu pegged food inflation to fall below 3 per cent in a month's time.
Analysts say RBI's move of raising policy rates for 13 times since March 2010 has not pulled overall inflation to below nine per cent.
Food inflation has fallen because of supply issues and base effect.
As such, RBI should not increase any rate further, as it is not killing inflation but growth.