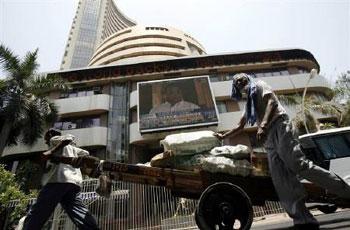 Indian markets are likely to react to the win by anti-austerity Syriza party in Greece polls and US-India business talks when they open for trading on Tuesday, say experts.
December quarter earnings from blue-chips, outcome of US Fed meet and expiry of derivatives would dictate the near-term trend, they added. Trading is expected to be volatile in this holiday-shortened week that opens after a surprise rate cut by RBI and investor enthusiasm lifted the BSE Sensex and NSE Nifty benchmarks to new life-time highs in the previous week.
"The holiday-shortened week is expected to be a volatile one for local equity markets on account of F&O expiry, which is scheduled to take place on Thursday," said Jayant Manglik, President-retail distribution, Religare Securities Limited.
Among quarterly results of prominent companies scheduled this week include Maruti Suzuki India, Sesa Sterlite, HDFC, Dr Reddy's Laboratories, HCL Technologies, Tech Mahindra, NTPC and ICICI Bank.
"Movement of index in near term will remain on trend in global markets, Q3 results of India companies, outcome of Federal Reserve's meeting, elections in Greece, investment by foreign portfolio investors (FPIs), movement of rupee against the dollar and crude oil price movement in a truncated trading next week," said Vivek Gupta, CMT – director research, CapitalVia Global Research Limited.
India and US have decided to resume talks on bilateral investment treaty during discussions between Prime Minister Narendra Modi and US President Barack Obama, who lauded reforms being undertaken by the new government.
Global investors are keeping a close eye on the Greece situation. Anti-austerity party Syriza has won a historic victory in Greece's election on Sunday, partial results showed, setting up a confrontation with the EU over its plans to renegotiate the country's massive bailout.
The possibility of Greece defaulting on its debt repayments under a Syriza government is likely to spark renewed fears the country could be forced to leave the eurozone -- a so-called "Grexit", said market experts.
Financial markets had already been spooked at the prospect of Syriza coming to power before the election. On Monday, Euro slipped to an 11-year low, stocks slipped while gold rose as Greece poll results sparked safe-haven demand.
"Greece has been struggling with political uncertainties including its possible exit from the eurozone, which will create a ripple effect and unrest in other Euro countries like Portugal and Italy which are under severe pressure and unable to revive their economies and steep decline can be witnessed in the Indian markets also," Gupta added.
Meanwhile, the US Federal Open Market Committee would undertake its monetary policy review at a two-day meeting on Tuesday and Wednesday.
Over the past week, the Sensex and the Nifty continued the bull-run and ended above the 29,000-mark and 8,800-level respectively. The Sensex settled at record of 29,278.84, gaining 1,156 points and the Nifty ended new at a high of 8,835.60, a gain of 321.80 points, or 3.78 per cent.