Grappling with the stressed economy, Finance Minister P Chidambaram said "hard decisions" would be taken in the next few days and weeks to trim wasteful expenditure and curb import of "inessential" items.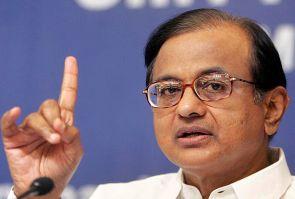 "We are going through a period of stress...we have to take some hard decisions. Many of these measures are being taken, and many measures will be announced in next few days and weeks. Some measures to curb import inessential items will also be announced.

"All these measures taken together will have beneficial impact", he said, winding up a debate on Appropriation Bill in the Rajya Sabha.

Describing inflation as the worst form of taxation which hit the poorest the most, he said, the government would be coming out with more measures to deal with the price situation.

On the issue of hiking oil prices in the backdrop of rising prices in the international market and rupee depreciation, Chidambaram said "no decision has been taken and no decision will be taken in haste" and the government will weigh pros and cons before announcing any step.

Responding to the suggestion for cutting taxes on petroleum products, he said the matter could be considered provided states too agree to reduce the incidence of tax on oil goods.

Attributing the sudden fall in the value of rupee to the May 22 announcement of the US Federal Reserve regarding withdrawal of monetary stimulus, he said the government will take more measures to increase flow of capital to contain volatility in forex market.

Chidambaram said, "When you are facing gloomy situation, wasteful expenditure has to be curbed....You call it austerity measures, you can call it cut in non-plan expenditure...while we must continue to spend and continue to find money for productive investment."

Stating that there was need to curb all inessential imports, he said, "When you have the money, you can import anything and it does not make any difference to the economy. But when you are facing a stressful situation, you have to curb inessential imports."

Regretting that India has to import coal despite having essential fuel in adequate quantities, he said a way had to be found out to deal with the issues concerning mining of coal and export of iron one fines.

Import of coal and ban on export of iron ore fines, in addition to large import of gold, have been adding to the pressure on the Current Account Deficit (CAD) which has touched an all-time high of 4.8 per cent of the Gross Domestic Product (GDP) in 2012-13.

Referring to inflation, Chidambaram said it can partly be attributed to the rise in the Minimum Support Price (MSP),
which in itself was a good thing as it meant more income for the farming community.
The other reason for inflation was spike in crude prices in the international market, Chidambaram said, adding "We don't fix prices of crude oil. Yesterday it crossed 115 dollar per barrel...(but) we have to bear the consequences".
Similarly, he said, India has to depend upon import of edible oil and pulses, which drive inflation.
Chidambaram also spoke about stimulus packages, days after he blamed them for current economic mess in comments which were seen as an attack on his predecessor and now President Pranab Mukherjee.
He stressed, "We allowed fiscal deficit target to breach. We allowed CAD to swell. I blame nobody. We include all of us in government, we include all in Parliament".
Chidambaram said that like India many countries had provided stimulus packages to help the industry tide over the impact of the global financial meltdown of 2008.
The stimulus, he said, had helped in anchoring growth in difficult times, though it had its consequences on the Fiscal Deficit and the Current Account Deficit (CAD).
"We anchored in growth but that resulted in some consequences. Fiscal deficit went high what I call to unacceptable (level). CAD swelled", he said.
On declining value of rupee, Chidambaram said its rate was market determined and there was no question of going back to the pre-1991 days of fixed exchange rate.
"Rupee does not have fixed exchange rate. We have moved from that. It has been beneficial for the country. We cannot go back to pre-1991 for fixed exchange rate of rupee," he said.
Attributing the rupee decline to external factors, the Minister said the US policy has created havoc impacting markets in emerging countries.
Observing that value of rupee had improved during the last few days, Chidambaram said, "...I keep my fingers crossed.
"We are fighting many unknown factors in the currency markets...but measures are being taken, measures will taken to increase dollar inflow," he said, welcoming the decision to raise currency swap arrangements to USD 50 billion from USD 15 billion currently.
Referring to the inflation, Chidambaram said although WPI inflation was around 5-6 per cent, retail inflation was high.
Inflation, he said, had to be tackled by addressing the supply side constraints and removing distribution bottlenecks.
"First step is to focus on supply side. Distribution side is antiquated... We have to focus on distribution system also," he added.