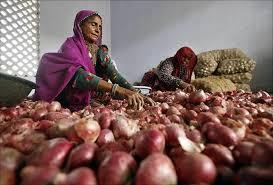 The government floated a tender on Wednesday to import onions from Pakistan, China, Iran and Egypt to check spiralling prices, despite the agriculture department warning that Chinese onions don't suit local taste.
The government also allowed traders to import onions without prior fumigation to ensure quick supplies.

"National Agricultural Cooperative Marketing Federation of India Ltd is interested in importing onions of Pakistan, Iran, China and Egypt origin to be delivered at the Nafed warehouse at Lawrence Road, New Delhi," the co-operative major said in the tender.

According to a senior Nafed official, onions from Pakistan, Iran and China would cost $200-250 a tonne (Rs 12,318-15,397 a tonne assuming an exchange rate of Rs 61.59), while those from Egypt are likely at $350 a tonne (Rs 21,556 a tonne).

India has fixed minimum export price of onions at $900 a tonne (Rs 55,431 a tonne) to deter outbound shipments.

In the tender, Nafed has sought "fresh quality big onions, red/pink in colour, size above 45mm, with white flesh, well dried, free from mechanically damaged, bulbs double, semi-matured, sprouted, soft, mushy, wet bulbs and completely free from fungus infestation and insect mould attack."

Prices inch northward

On Wednesday, onion price rose up to 15 per cent in retail markets across the country, owing to reduced supply in major mandis.

In Delhi, retail prices rose to Rs 78 a kg from Rs 69 a kg on Tuesday. In the last three months, prices have quadrupled.

Data compiled by the Ministry of Consumer Affairs showed a jump of Rs 11 a kg in onion prices in Mumbai (Rs 61 a kg). Price rises were witnessed across markets in the country.

While the ministry data showed the prices prevailing in key markets, remote customers continued to pay more.

Sources said onion prices in the outskirts of metros touched Rs 100 a kg.

"We have stopped using onions for the last one month due to its unbearable prices. Instead, we use green vegetables," said Radhika Mane, a housewife based in a western Mumbai suburb.

"In fact, many consumers like us have stopped using onions," she added.

Data collated by the National Horticulture Research and Development Foundation showed onion prices in the wholesale market in Bengaluru rose 10 per cent -- from Rs 36.3 a kg on Tuesday to Rs 39.5 a kg on Wednesday.

Arrivals in Bengaluru mandis fell to 35,609 quintals on Wednesday from 60,632 quintals on Tuesday.

While harvesting has been delayed due to the extended season rains, resulting in low availability for trade, farmers are aren't hastening harvesting due to fears of high spoilage.

With a decline in arrivals in Delhi -- from 11,043 quintals on Monday to 9,271 quintals on Wednesday -- prices in wholesale markets rose by Rs 4.75 a kg to Rs 50.75 a kg in the last two days, NHRDF data showed.