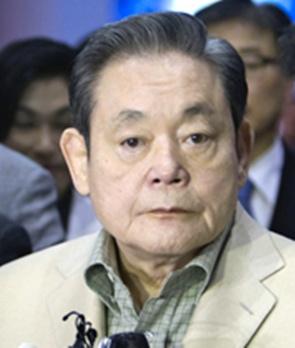 The government is believed to be working on a strategy to resolve the matter related to Wednesday's Supreme Court order asking Samsung Electronics Chairman Lee Kun-hee (pictured) to appear within six weeks before the Ghaziabad trial court in a pending payment case.
Apparently, at a late-night meeting on Wednesday, the external affairs and commerce & industry ministries discussed ways to resolve the matter amicably by approaching the Court with alternative options.
The meeting, called by Commerce Minister Anand Sharma, was also attended by Commerce Secretary Rajeev Kher; Department of Industrial Policy & Promotion Secretary Amitabh Kant; and External Affairs Secretary (East) Anil Wadhwa.
A senior official told Business Standard it was discussed how the matter could be settled without further irking the Koreans. Earlier, South Korea had "threatened to stop all investments coming into India", the official added.
The government is planning to approach the Court and request it to either allow one of Samsung's representatives to appear before the trial court or postpone the date of hearing in a manner that it comes up after a new government has taken charge.
The government is also concerned that because of a dismal progress in the $12-billion Posco steel project "the Koreans might abandon India for Vietnam or Thailand".
There is another aspect to the Samsung story. The company, along with the Rajasthan State Industrial Development & Investment Corporation, is scheduled to invest a hefty sum in setting up a manufacturing unit near Neemrana.
Following Wednesday's Supreme Court move, the government fears the company might cancel the proposal.
Also, the South Korean government is expected to set up an industrial park near Neemrana. Under the National Manufacturing Policy, the Centre has promised it a 10-year tax holiday. But now, it seems the Korean government has threatened to backtrack from the project, sources say.
South Korean President Park Geun-hye had during her visit here in January underscored the need for smooth implementation of investment proposals in India.
The $1.4-million payment case, in relation to which the Supreme Court ordered Lee's appearance in the Ghaziabad trial court, was filed in 2002 by one of Samsung's Indian suppliers, JCE Consultancy.
JCE had complained the Korean electronics major and its chairman had failed to make a payment due from one of Samsung's Dubai-based subsidiaries, Samsung Gulf Electronics. Lee has been charged with cheating, fraud and criminal conspiracy.