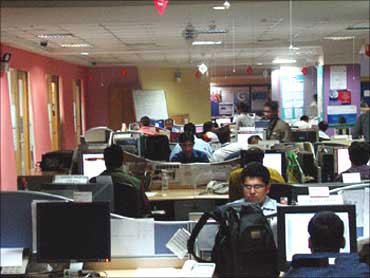 Telangana information technology minister, KT Rama Rao, wants to "create a buzz and enthusiasm about Hyderabad" and has asked his secretary to explore the possibility of making the entire state capital as a Wi-Fi-enabled city.
"We are trying to figure out how quickly we can do it and what could be the stumbling blocks. We will come out with a definite, concrete statement on this very soon," Rao said in an interview with Business Standard on Friday.
He was also very keen to let the industry know that "there is a government here which is keen to get Hyderabad back on track, that there is a chief minister who is a decisive leader and who knows what is required by the city."
In this regard, the government was planning to hold a joint meeting of industry bodies like the CII, Ficci and Assocham to get their inputs.
"We want them to tell us what they would require the government to do. We want this government to be industry-friendly," he said.
On the policy front, Rao said, the state government was looking at coming out with separate policy documents for different sectors of the economy. It was also exploring to forge various partnerships.
"For instance, we can have academic partners, a strategic partner, a knowledge partner and technology partnerships. We can have as many partnerships as possible so that the reach could be that much more."
Stating that the principle bottleneck as far as the IT industry is concerned was lack of an eco system that nurtures innovation, he said the government would come out with a road map soon that not only nurtures but also rewards innovation.
"In fact, there is a great incubating facility at IIIT here and we want to explore how we can take it to the next level with the support of the government. Under consideration are aspects like investing certain amount of money in terms of building infrastructure or providing seed fund," he said, adding the government was also looking at technology partnerships with some incubator companies.
According to him, the first and foremost goal the state government has set itself is to ensure that all entrepreneurs who are already here, stay here and expand. To make them understand that Hyderabad provides greater return on investment. The next focus will be on getting new investments.
In the next five years, he said, Phase I of the Information Technology and Investment Region (ITIR) would be rolled out. The combined investment by the state and central government on this would be Rs 2,700 crore.
Emphasising that Hyderabad had spread its tentacles to five districts including Medak, Mahabubnagar, Nalgonda and Rangareddy, he said by development of Hyderabad he meant development of half of the Telangana state.
Measures are also on the anvil to develop the remaining five districts of the state.
"There are a lot of things in the air. Whoever I met so far had positive things to say. I only heard people saying that we will expand or we are looking to expand. Nobody said I am going away from Hyderabad. This a very encouraging beginning," Rao said.