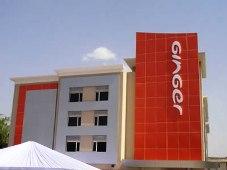 Ginger Hotels, the budget hotel chain established by Roots Corporation Limited, a part of the Tata Group, is looking at developing a total of 700 rooms in various cities in the current financial year with an investment of around Rs 90 crore (Rs 900 million).

Speaking to reporters after launching Ginger Hotels' second property in Chennai, Prabhat Pani, chief executive officer and director, Roots Corporation, said, "This is our 26th hotel across the country. With this, we have added around 200 rooms this year in two projects.

"We expect another 500 rooms to be ready within the end of this year."

The company is looking at opening more hotels in metros like Bangalore and Tier-I cities which see more number of tourist arrivals.

The investment in future would be mainly through internal accruals and debt.

The company is likely to raise funds from the existing shareholders, if required, he added.

At present, around seven Ginger Hotels are located in the metros, of which four are in the National Capital Region. There is a huge potential
for the company to expand operations in metros, with several hotels in each of the metro, he said.
Around eight properties are in cities like Pune, Ahmedabad, Bhuvaneswar and Surat, which see more business activities compared to others.
The company has a flexible growth model for future, including mixed development in properties, options to act as a replacement for guest houses and services apartments, public-private partnership formats in which it would run the hospitality business in tie-up with government agencies and departments, redevelopment of erected civil structures and management contracts, he said.
He said that under the PPP format, Ginger Hotels was operating a 20-room hotel for Indian Railway Catering and Tourism Corporation Limited at Rail Yaatri Nivas in New Delhi.
"We are hoping to have many such tie-ups with government organisations, tourism development divisions, railways and research institutions in future," Pani said.
The new hotel launched in Chennai has seen an investment of around Rs 10 crore (Rs 100 million) for the redevelopment of a building erected for commercial purpose and has around 79 rooms.