With Tetley, Essilor and other brands seeking him out, Ganguly is the highest paid endorser among retired cricketers.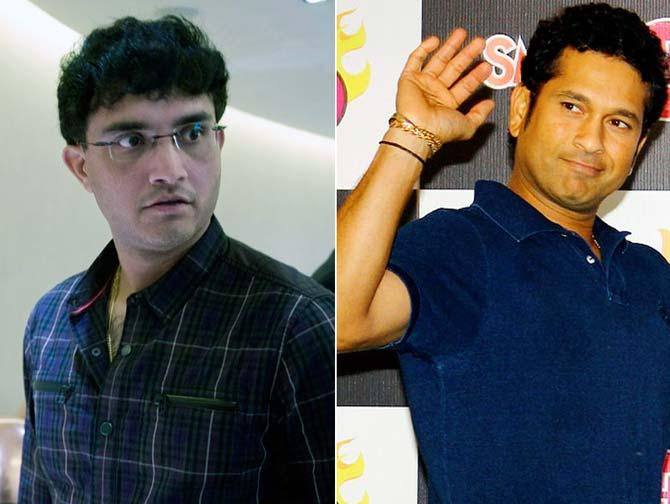 Among the rare cricketers to strike it big on the endorsements track well after retirement, Sourav Ganguly is not only drawing in the big brands but has also beaten former teammate Sachin Tendulkar on the ranking tables.
With his recent endorsement for Tetley, Dada, as he is popularly known, has eight brands in the bag and charges between Rs 1 and 1.5 crore for a four- to five-day engagement a year.
He ranks third on the list of (playing) cricketer-endorsers, although his fees are significantly lower than stars Virat Kohli and MS Dhoni who charge between Rs 8 and 12 crore a year.
Ganguly was much sought after even when he was in the team with brands like Tata Café and Hero Honda under his belt. Who can forget him awkwardly shaking a leg with Hrithik Roshan in the Hero Honda ad?
In his heyday, brands pursued him for his aggression and ability to fight back. Today he is seen as a popular ambassador of a game that has mass appeal. His appeal has also gone up with women and children, especially after his appearance on popular television shows in Bengal.
Ganguly's brands include regional and national companies. He endorses everything from smartphones and laptops to tea and instead of getting him to shake a leg or mouth too many lines, the ads are playing on his present image of being a statesman of the game say experts.
His popularity, especially in Bengal, is also drawing the brands in.
Ganguly formed part of what is called the golden quartet of Indian cricket along with Sachin Tendulkar, VVS Laxman and Rahul Dravid. While Ganguly was the first to retire (2008) and Tendulkar the last (2013), the southpaw has had a longer (and more rewarding) innings in the endorsement game.
He is the face of Tata's Tetley brand for its green tea and DTDC's latest campaigns. He has been with Essilor lenses, Senco Gold, and Burnpur Cement among others for some time now. He is also the face of several real estate projects in West Bengal.
What has worked in Ganguly's favour is that he has not faded from public view even after retirement.
"Ganguly didn't go into hibernation. Even after he retired from the IPL, he was involved through the CAB (Cricket Association of Bengal) and anchored TV shows. In Bengal he is as popular as some of the biggest movie stars from the state, so he makes sense for a lot of brands (to want to hire him)," says Indranil das Blah, partner and COO at CAA KWAN, a sports and celebrity management company.
Ganguly is a popular commentator and anchor of shows like Dadagiri (Zee Bangla) and a Bengali adaptation of the popular Kaun Banega Crorepati. The shows have brought him wide recognition and increased his natioanl appeal.
"Sourav has been an exceptional sportsperson. Today, even though he is not an active sportsperson, he still faces the pressure of 'super human' expectations that people have," says Sushant Dash, regional president (India), Tata Global Beverages.
Tetley has associated with Ganguly for their 'Super Green Teas' in India, which Dash believes will be a big growth driver for the category. The ads were first released online, on YouTube, Facebook, Hotstar and some health and wellness forums.
"We are also doing print ads and are exploring on-ground activation as well," Dash adds.
Jagdip Kapoor of Samsika Marketing feels that his relevance factor is also high.
"He commands geographical relevance in Bengal, he has leadership qualities, his career marks his ingenuity as a strategist and he inspires trust. He is what I would call a valuable endorser at a reasonable rate. I feel this is the time for him to up his rates!" says Kapoor.
The industry pegs Ganguly's fees at Rs 20-25 lakh a day for a commitment of four to five days a year. This is what current players, Rohit Sharma and R Ashwin charge and more than what Shikhar Dhawan commands.
Of course, he does not come close to what MS Dhoni (Rs 8 to 10 crore a year) and Virat Kohli (Rs 10 to 12 crore a year) bring in.
But if one compares Ganguly with the crop of retired players, he is leagues ahead.
VV Laxman never really boarded the endorsement brand wagon, Dravid has consciously stepped away to focus on coaching and Tendulkar, charges around Rs 75 lakh a year. When he was playing, Tendulkar drew close to Rs 6 crore a year.
Kapoor believes that Brand Ganguly has a long life ahead, but Dash does not agree.
"It is quite clear he is serious about a career in cricket administration. If that is the case, once he is part of the BCCI, he won't be able to endorse a lot of brands if there is a conflict of interest. So like they say, he should make hay while the sun shines," he says.