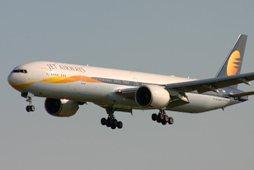 Fresh hurdles have emerged in the way of the Naresh Goyal-promoted Jet Airways' deal with Etihad Airways, with the Abu Dhabi-based airline putting a host of conditions.

These include an option to buy up to 49 per cent stake in the firm.

Sources close to the deal say, besides a higher stake (earlier, the negotiations were on for sale of up to 24 per cent), Etihad has asked for its representation on the board of the Indian airline, in sync with its shareholding.

It wants operational control over the airline, as well as its fleet acquisition plans.

The West Asian carrier has also sought protection under a Bilateral Investment Promotion and Protection Agreement, arguing it does not want to face a situation similar to what telecom giant Etisalat faced.

At present, Goyal holds 80 per cent in Jet Airways -- 79.99 per cent through Tailwinds Ltd, a firm based in the Isle of Mann, and 0.01 per cent directly. The remaining shares are held by the public and FIIs.

While Jet did not respond to a query on this, an Etihad spokesperson said: "As part of the deal process, a senior delegation, including President & CEO James Hogan and board members, flew to India last week and met senior Indian aviation officials. We are currently undertaking due diligence, which will be presented
to the Etihad board. If, or when, we make an investment decision, we will announce that, in line with the appropriate regulatory and commercial requirements."
The first indications that the deal was still not close to being sealed had come when Hamed bin Zayed al-Nahyan, the chairman of the airline, had said in the UAE on Sunday that the deal needed to be revised.
Commerce Minister Anand Sharma was in Dubai this week, where the United Arab Emirates government agreed, in principle, to sign a Bipa to push trade between the two nations.
The Jet-Etihad deal was expected to be the first investment by a foreign airline company into an Indian one after the government permitted foreign carriers to hold up to 49 per cent stake in domestic airlines. However, Tata Sons and AirAsia on Wednesday announced forming a JV to set up an airline.
In this proposed JV, AirAsia, promoted by entrepreneur Tony Fernandes, is to hold 49 per cent.
The Indian partners -- Tata Sons with 30 per cent and Telestra Tradeplace's Arun Bhatia with 21 per cent -- will represent the Indian partners.
For Jet, the deal would have brought the airline a much-needed cash infusion of around $330 million, while for Etihad, with less than two per cent share of the international market from India, the deal would have helped it offer seamless services to passengers from India through Abu Dhabi to different markets in the world.