Company signs MoU with state for its three-year plan; ties up with Subhash Ghai firm for content creation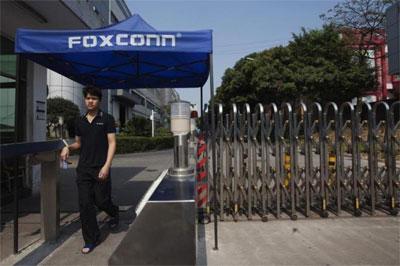 Foxconn, the world's largest contract-manufacturing firm for consumer electronics, on Saturday signed a memorandum of understanding (MoU) with the Maharashtra government to invest $5 billion over three years, for setting up a manufacturing unit in the state.
The company said it was yet to identify a site for its proposed production unit. "We have been looking for other places, but initially the focus is (on) Maharashtra. The unit will have a manufacturing facility, as well as R&D (research and development) unit," said Terry Gou, founder & chairman of Han Hoi Precision Industry Company Ltd, which operates under the trade name Foxconn, after signing of the MoU.
At present, the company contract-manufactures devices like Apple iPhone, BlackBerry, Kindle e-reader, and Playstation video game consoles. It is not immediately known for which brands Foxconn will manufacture devices at its Maharashtra unit.
Earlier, after his meeting with Prime Minister Narendra Modi in New Delhi, Terry had said the company was looking for suitable sites across India to set up 10-12 phone-manufacturing units and data centres. It is also in talks with the state governments of Gujarat, Telengana and Andhra Pradesh for other locations.
On Saturday, after signing of the MoU, Maharashtra Chief Minister Devendra Fadnavis said: "The initial focus would be TFT (thin-film transistor) and semiconductor manufacturing."
The state government will provide 1,500 acres of land somewhere between Mumbai and Pune. The location could be Khopoli on Mumbai-Pune road or Talegaon industrial estate, Fadnavis added.
The signing of the MoU took place after nearly two month of parleys and five-six meetings between Terry and Fadnavis.
Terry said Foxconn had zeroed in on Maharashtra because Mumbai, as a financial centre, had ample talent, mushrooming start-ups and the facility for software-hardware integration.
The company said it would partner with local companies for its Maharashtra unit. Terry has also met with Tata group companies like Tata Consultancy Services (TCS), construction firm Shapoorji Pallonji and automotive major Bharat Forge. It also announced its association with Whistling Woods International, the media art technology school promoted by Bollywood film director Subhash Ghai, for content creation.
"Foxconn has provided us technical video-editing equipment and said it is willing to create digital content in association with Whistling Woods," said Ghai, whose company also signed an understanding with Foxconn on Saturday.
Investment drive
Other major projects with huge investments in Maharashtra
Rs 6,400 cr
General Motors to expand its Talegaon facility
Rs 1,700 cr
Chrysler to manufacture its marquee brand Grand Cherokee in Pune
Rs 4,500 cr
US fund Blackstone to set up an IT park in Navi Mumbai, in a joint venture with Panchshil
Rs 500 cr
Coca-Cola's planned investment in Lote, Chiplun