Finance Minister Piyush Goyal: 'I hope the Congress governments and other states like West Bengal, Odisha, Tamil Nadu, Andhra, Telangana will support our effort to bring petrol and diesel into the GST regime.'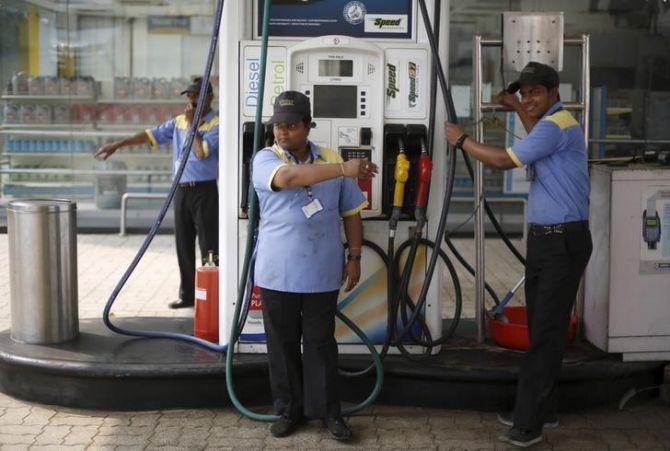 Photograph: Adnan Abidi/Reuters
Edited excerpts from Finance and Railway Minister Piyush Goyal's interaction at the NewsX Karnataka Next Conclave at Bengaluru, May 8:
Rahul Gandhi said this is Indira's Congress vs the RSS and BJP. Randeep Surjewala said Rahul Gandhi will die defending the founding principles of India. Is this still an ideological war sir?
Well, first of all, I wish Mr Rahul Gandhi a long life and I do hope he will serve the country well as a political leader, as a president of party, which we oppose.
I believe political parties should oppose each other, should criticise each other's policies wherever they are wrong. But the kind of low-level of politics that Rahul Gandhiji and Siddaramaiah stooped to is truly very sad for the people of Karnataka, is truly very sad for the future of Karnataka.
But I am very surprised that Rahul Gandhi chose to invoke his late grandmother, particularly, in a situation where they already are fighting this election with their back to the wall -- in some sense, showing that what Salman Khurshid, a senior Congress leader and member of Parliament and former minister has said, is possibly correct.
It's a failed leadership that the Congress has today, and Salman Khurshid has rightly advised the current leadership of the Congress they should get back Soniaji to come and campaign.
It's a good idea to get her back because the current leadership of the Congress is a complete failed leadership, talking, making false allegations on a daily basis, making tweaks which are complete falsehoods and irrelevant.
I think the days of the Congress as the prime minister has rightly pointed out are restricted to a Puducherry-Punjab Parivar Congress.
Some issues matter and one of the issues that the Congress is raking up is high petrol prices. You saw Rahul Gandhi on a bicycle; it's a fact that India has the highest record petrol prices. How do we explain that?
Well, first of all the petrol price and this is a thing which has been debated, a issue which has been debated very often, is a function of international prices, and also a function of the high taxes that the states also put up.
After all, today for every litre of petrol or diesel you have a huge state tax, we have been talking to the states in the GST Council to bring it within the ambit of GST.
And I do hope the Congress' few governments which are left and the other states like West Bengal and Odisha, Tamil Nadu and Andhra, Telangana, will support our effort to bring petrol and diesel into the GST regime.
Having said that, I would urge Mr Rahul Gandhi not to do a mockery of cycling, but rather to start using less petrol guzzlers or diesel guzzlers and those high value cars which he is using on a regular basis, on which he also goes speed racing on the streets of Delhi very often and answer to the people of India that how whether these high prices are hitting him at all when he goes speed racing.
The BJP had 21 states and counting, 15 chief ministers, several deputy chief ministers in alliance at the Centre hoping for a second term at the Centre... How much power is too much power, Piyush Goyal?
I think when the power is used for good work to serve the people of India, it's always good.
This has been a government that in Delhi and in several of the states today which has been working for the poorest of the poor, which is bringing out the ideology of Pandit Deendayal Upadhyay in action, where Panditji had taught us that the first right on a nation's resources is of the person who is at the bottom of the pyramid.
This has been a government that has focused all its energies and used every power in its command to clean up the system, to rid India of corruption, to bring all the years of misgovernance to an end, to take welfare measures to the poorest of the poor, to serve the farmers of India, to help the youth of India stand on their own, become self-reliant, become creators of wealth, creators of the national economy rather than just having a country which works on doles, something which the Congress had mastered and left behind over years of bad governance.
In the past year when electoral victories have certainly gone your way sir, there has been talk of moral victories from the Congress.
And at the central level, one Congress leader was pointing out that in the by-elections where the BJP began with 282, 10 by-elections they haven't won anything.
What happened? Isn't that important to you?
Every election is important to us, but by-elections are fought at the local level, they are not fought to form a government in Delhi, and, of course, the Centre doesn't get involved in each of these by-elections.
We should be concerned. We should do a course correction in the states wherever there have been issues where we did not fare well in the by-election, nobody can deny that.
But governments are formed when a state election or a national election is done, and in every state, and state after state, we have won elections.
In local bodies across the country, be it in Gujarat, be it in Maharashtra, be it in Madhya Pradesh, Rajasthan, we have been sweeping elections.
And to my mind, the country today stands solidly behind Prime Minister Modi and that has been demonstrated time and again.
Manmohan Singh, the former prime minister, has said that his successes or his tenure's successes on the economy have been reversed in the past 4 years?
Absolutely, his success on Coalgate and the huge Rs 186,000 crore scam, I have turned it around.
I have stopped that scam. That success of Manmohan Singh, he should answer to the people of India.
Was I right in turning down his method of giving coal blocks free of charge to friends, relatives, members of Parliament of his party, relatives of his ninisters, was that what he was referring to?
Or was it the Commonwealth scam that he very well managed in his government, or was he referring to the Devas-Antrix scam or was he referring to the Adarsh scam, or was he referring to giving out spectrum to a select few at very low rates?
I don't know what policies of his he wants us to continue. I think I am happier to have brought down LED prices which Mr Manmohan Singh's government was buying at Rs 310 plus taxes. We brought it down to Rs 38 plus taxes.
I was doing a small calculation. The 30 crore LED bulbs that this government bought at a saving as much as 85 to 87 per cent per bulb has saved the nation Rs 20,000 crores, just the government purchases of LED bulbs and which is resulting in Rs 40,000 crore saving for the citizens of India in their electricity bills every year.
Rs 40,000 crore saved every year is a huge saving.