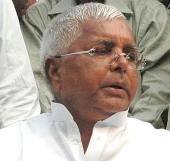 For Ambala Division of the Northern Railway Rashtriya Janata Dal chief Lalu Prasad is still the Railway Minister.

A link on the official website of the Ambala Railway Division provides access to a format a 11-page telephone directory in adobe which still lists Lalu Prasad Yadav as the 'Rail Minister'.

The two ministers of state mentioned in the list -- Narain Bhai J Rathwa and R Velu-- both of whom have also demitted their offices since long.

Not only the telephone numbers of Lalu Prasad, but also of his key officers then, including the officer on special duty, are detailed in the diary
even though they have left the Rail Bhawan.
The directory also lists J P Batra as the chairman of the Railway Board, while the main website of the Indian Railways, mentions Vivek Sahai as the new chairman.
On being contacted, divisional railway manager of Ambala P K Sanghi expressed ignorance over the listings and promised to get it checked.