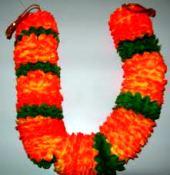 Despite the Shiv Sena deciding to support the two-day trade union strike from Wednesday, the city enjoyed normal functioning of transport, thanks to Hind Mazdoor Sabha president Sharad Rao's decision not to participate.

Rao is noted for bringing this metropolis' life to a halt by heading strikes of transport unions.

Almost 12 years ago, he'd shot into the limelight after he mobilised support for a bandh call against the 'anti-labour and anti-people' economic policies of the state and central governments.

Rao justified his non-participation by citing the appointment of a panel of senior central ministers, not bureaucrats, to look into the issues raised by the 11 agitating TUs.

He says a large number of these relating to rickshaw and taxi drivers were being resolved.

In the case of employees of the Sena-controlled BrihanMumbai Municipal Corporation, he says the issues are in the process of getting addressed by the administration.

This when Rao has been leading a series of agitation in BMC for 18 years.

Today, the Sena desisted from using its famed muscle power as Class XII exams begin tomorrow.

And, for a change, Rao won bouquets and not brickbats from Mumbaikars; in the past, he was usually painted as the city's
villain in this regard.
In 2000, Rao led BMC workers in a major strike over festival bonuses, adversely impacting essential civic services, including hospitals and public transport.
After his union members dared to shut water supply to the city for two days, the high court stepped in and threatened to have the army take over the city administration.
In September 2012, the Rao-led rickshaw union had threatened to go on strike, pressing their demand for a revision in fares. Mumbaikars heaved a sigh of relief after he withdrew the call, following 'fruitful' negotiations with the transport department.
Rao succeeded in raising auto fares and Mumbaikars had to accept it.
A hardcore socialist, Rao has been a trade unionist for over four decades.
He has been associated with the Hind Mazdoor Kisan Panchayat, led by former Union minister George Fernandes.
However, their long association came to an end after Fernandes joined the Bharatiya Janata Party-led coalition at the Centre.
Rao has contested state Assembly elections earlier, unsuccessfully.
He has joined the Nationalist Congress Party of Sharad Pawar.