Ramdev's company remains a dominant player in the naturals space, but products of rivals are also gaining popularity.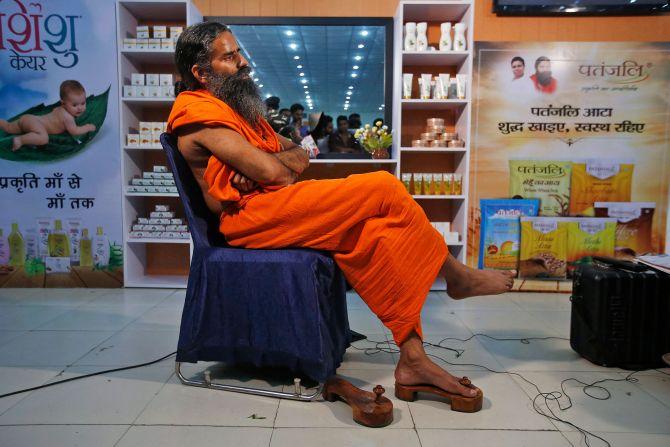 A biopic series on the life of yoga-guru-turned-entrepreneur Ramdev was premiered on the new general entertainment channel Discovery Jeet recently.
While the series highlighted many unknown facets of Ramdev, a key part was on his journey of taking Patanjali, an ayurveda consumer goods company co-founded by him and close aide Balkrishna, to the top.
At Rs 10,561 crore, which is its top line for the financial year 2016-17, Patanjali is easily among the leading consumer goods players in the country, having multiplied revenue over 20 times in the last five years.
The period also saw the firm take its brand from relative obscurity to the forefront of the ayurveda consumer goods landspace on the back of its belief in India's age-old medicinal system.
Numbers for the financial year 2017-18 are yet to be announced by Patanjali.
Most other consumer goods firms, meanwhile, grew only between 8 and 12 per cent in terms of top line in the last five years.
Many players have been struggling to comprehend the Patanjali phenomenon and how to combat it.
With the initial storm having quelled now, the questions is: how Patanjali is currently performing, and have rivals managed to fight it out all over the last few quarters?
The December quarter numbers of the firms directly competing with Patanjali provide an answer to this question.
Hindustan Unilever (HUL), which is the country's largest consumer goods company, saw an 11 per cent underlying volume growth in the third quarter.
This was led by growth across categories from home to personal care, food and refreshments, though the company had benefited from a lower base in the corresponding period a year ago.
Personal care, a category in which HUL competes head-on with Patanjali, witnessed a "broad-based growth" across soaps, skin care, hair care and oral care, said company MD & chief executive officer, Sanjiv Mehta.
This was led not only by price cuts due to lower goods & services tax rates, but also aggressive launches in the naturals space.
Especially, Lever Ayush, Mehta said, did well in most geographies (HUL has taken the brand nationally from the south) and that its month-on-month growth rates improved steadily.
Abneesh Roy, senior vice-president, research, institutional equities, Edelweiss, said that HUL had taken cognisance of the rising potential within naturals and that brands, such as Ayush, would propel growth for the company.
"For HUL, 'naturals' is a mega trend and with Indulekha's clinical validation and efficacy (in the haircare space), besides Ayush's growth prospects, the naturals proposition (for the company) will get a boost.
"We expect volume growth to improve, though Patanjali's aggression in soaps and detergents will have to be monitored closely," he said.
Colgate and Dabur too saw a volume growth of 12-13 per cent in the December quarter, led not only by a lower base but also improved aggression in the naturals space.
Sunil Duggal, the chief executive officer of Dabur India, last month during the company's third-quarter analysts' call had said, "I think the Patanjali effect, which was perhaps at its peak around a year ago, is now waning a bit.
"It is still doing well in toothpastes, I am not denying that, but we are now getting share back rapidly."
Ian Cook, Colgate's global chairman and chief executive officer, about the company's performance in the December quarter said, "In India, we have seen our naturals offering approaching one share point and in modern trade approaching two share points.
"So, these businesses are off to a good start supported by compelling advertising."
Cook added that brands, such as Cibaca Vedshakti and Colgate Swarna Vedshakti, were driving incremental sales for the company.
Emami, while reporting a 6 per cent volume growth in the December quarter, said skincare brands, such as Boroplus, and hair oils, such as Navratna, were key growth drivers for it.
Though acquired brand Kesh King posed a challenge for Emami, declining 19 per cent year-on-year in terms of sales during the third quarter, the company said it was revamping distribution of the brand to improve its growth prospects.
Photograph: Adnan Abidi/Reuters.