They say that a stimulus package may not be necessary because, unlike last year's total lockdown, public transport, including the railways and airlines, is running and the restrictions on movement are localised and, in some cases, are partial rather than total.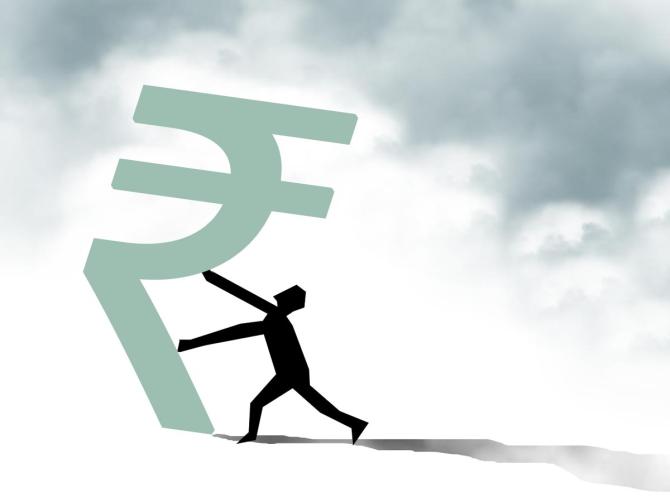 Despite a grim economic outlook amid a worsening Covid-19 crisis and lockdowns in major cities, government officials have ruled out any fiscal support to industry for now.
They say that a stimulus package may not be necessary because, unlike last year's total lockdown, public transport, including the railways and airlines, is running and the restrictions on movement are localised and, in some cases, are partial rather than total.
"It is premature to think of a fiscal stimulus package. In fact, it won't be necessary as the impact is nowhere close to what it was last year. Not everything is shut down," a senior government official told Business Standard.
He said there was no real cause for 'alarm' nationally and that 'some localized issues could be addressed later after assessing the impact'.
While Delhi announced a week's 'curfew' last Monday, Maharashtra had already imposed its own restrictions, impacting at least 50 per cent of manufacturing units producing non-essential items.
Cities in Madhya Pradesh, Chhattisgarh, and Karnataka have also imposed similar curtailments.
"The impact on GDP would not be significant due to lockdowns in some states and the estimates made in the Budget have been conservative," said another government official.
Last year, Finance Minister Nirmala Sitharaman had announced three rounds of fiscal stimulus packages to help the economy emerge from the recession caused by the pandemic.
This time, though, she may let state governments take a call on whether and how to support industry and citizens.
For instance, last year, the Centre, under the Pradhan Mantri Garib Kalyan Anna Yojana (PMGKAY) scheme, distributed five kilos of wheat or rice per person per month at the height of the lockdown to almost 80 crore beneficiaries.
This was over and above the normal entitlement under the Food Security Act.
In addition, all the eligible families were also given one kilo of pulses per month free.
While they battle a particularly vicious second wave, some state governments have asked New Delhi to re-start a scheme similar to PMGKAY.
Despite being flush with food grains, the Centre is not very keen on the idea.
Instead, it prefers states to start their own food grain distribution based on their assessment of specific local needs.
Maharashtra is the first state to announce free extra food grains for ration card holders for the next three months, above the usual allocation, starting from May 1.
A few days ago, Madhya Pradesh followed suit announcing free rations for the next three months.
Pronab Sen, a former chief statistician with the government, said that policymakers will have a more complex job during this second wave owing to the fact that the problem is on the demand side whereas last year it was both the demand and supply side.
"The government should focus on rebuilding confidence. It could consider giving an option of a moratorium this year as well, but make it clear that an interest on interest will be levied," said Sen.
He pointed out that localised lockdowns mean that economic activity will be affected in different places at different times and so supply will be disrupted temporarily.
Industry has a different point of view. Fearing it won't be able to survive a second hit, it seeks government support. Anil Bhardwaj, secretary general at the Federation of Indian Micro and Small & Medium Enterprises, said the RBI should be given the flexibility to provide credit facilities to creditworthy SMA-2 accounts, given the unprecedented emergency.
"The government should also extend the Emergency Credit Line Guarantee Scheme for micro and small and medium enterprise accounts that have been overdue for more than 60 days, as against 60 days now," said Bhardwaj.
He also urged the government to ensure that public sector units made timely payments to these enterprises to ensure that no business had to shut down.
Assocham president Vineet Agarwal said that industries are currently facing local issues as compared to last year.
"There could be some impact in the next few weeks on the supply chain and demand.
"The impact could be larger if state governments extend these lockdowns beyond the specified period," he said.
Agarwal wants the government to provide relief measures for the services sector as it generates largescale employment and take measures to protect daily wage labourers to avoid a gigantic exodus.
Ratings agency Crisil in a note on Tuesday pointed out that, so far, electricity consumption and GST e-way bills collection (which are used as proxies to track economic activity), have softened only somewhat.
It further pointed out that while more and more lockdowns are being imposed, they are not as stringent as last year.
Manufacturing and construction activities continue and travel and recreational services are allowed in most states, with social distancing.
"The impact of these restrictions, though, are beginning to affect retail mobility which dipped across more states, with the highest decline seen in Maharashtra - a 17.7 percentage point decline between March to April to date, on average," said Crisil.