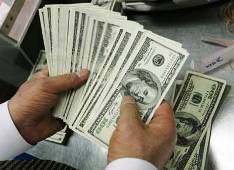 The stock markets and the rupee are expected to gain on Thursday, after the US Federal Reserve surprised global markets by keeping its bond-buying programme, known as Quantitative Easing 3, intact.

The broader consensus was that the Fed would cut the monthly stimulus of $85 billion by $10-15 billion.

After the announcement on Wednesday, US stocks and gold rose and bond yields softened. Gold, trading at around $1,300 an ounce, jumped three per cent.

In India, the yellow metal closed on the MCX at ~29,990 per 10 g in night trade.

It is expected to open two per cent higher on Thursday, as the rupee has gone up sharply on the Dubai-based DGCX.

"Many traders in domestic markets were short in gold and they are likely to get trapped tomorrow when the market opens, as a continuous buying programme internationally could be inflationary," said Kedia Commodities Director Ajay Kedia.

Brent crude oil also jumped by more than a dollar and was trading at $109.75 a barrel at the time of going to press.

Most investors and analysts were expecting the Fed to cut the QE 3 by at least a small amount.

According to analysts, the market mood would have been optimistic even if the stimulus was lowered by $10 billion a month.

Now that retaining the size of QE 3 has been decided with only one vote against, the sentiment is set to get a great boost.

Also, after the decision, foreign institutional investors are expected to extend their buying spree in Indian stocks. This might also help the rupee stabilise.

Earlier in the day, FIIs had pumped dollars into Indian markets, net-buying shares worth ~580 crore, according to provisional data.

So far this month, these investors have bought to the tune of over Rs 7,000 crore (Rs 70 billion), after selling shares worth about Rs 22,000 crore (Rs 220 billlion) in the preceding three months.

The BSE Sensex gained 158.13 points, or 0.80 per cent, to close at 19,962.16, while NSE's Nifty was up 49.25 points, or 0.84 per cent, to 5,899.45.

But a majority of the gains was on account of a late rally, thanks to short-covering.

After Wednesday's Fed status quo, currency market participants would be looking forward to the mid-quarter review of RBI's monetary policy review on September 20 --
the first one under Governor Raghuram Rajan.
He had postponed the policy review by two days to factor in Fed's moves.
Market will now see whether the central bank withdraws the liquidity-tightening measures announced mid-July.
According to markets participants, it will be difficult for Rajan to cut interest rate, as headline inflation inched up in August.
Inflationary pressure will also come from the rupee's depreciation since the beginning of this financial year, besides an increase in fuel prices -- latter a call the government might take to meet its fiscal deficit target.
The rupee might appreciate on Fed's decision in the near term but, experts say, it would remain under pressure unless policymakers address the issue of a wide current account deficit.
Ahead of Fed's meeting, the mood in the currency market was very cautious, with the rupee unable to hold on to its early gains and ending marginally weaker than its previous close, at 63.39 a dollar.
It had touched a high of 63.08 during intra-day trade as several foreign banks decided to cover their foreign exchange positions before the Fed meeting.
Since March this year, the rupee has fallen by as much as 28 per cent, while the equity markets are down about 12 per cent, partly because of concerns over a QE 3 tapering.
Bernanke had in May warned markets of a possible tapering of the $85-billion US bond-purchase programme, citing a recovery in the US markets as the reason.
This had caused foreign flows to reverse from the emerging markets to the US.