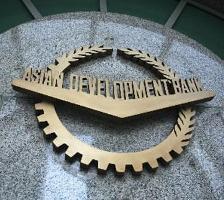 The Asian Development Bank on Thursday hinted it might have to lower its lending programme to developing countries including India, saying its investments are not yielding adequate returns.

The Manila-based multilateral lender had extended $2.4-billion loan to India across sectors like transport, energy, commerce, industry, trade and finance in 2012. India is the biggest borrower of ADB.

"We have no solid base of capital to continue to lend at higher levels than before.

"But of course there are challenges to keep this level of lending. "We have now entered a level of lending of $10 billion compared to $5 or $6 billion before. But can we keep this level of lending?

"That itself is a challenge. . . .

"Because our income from investments of surplus resources, which is mostly lend to European countries, that return on investment is smaller than expected because of lower interest rates.

So we hope to solve this issue of maintaining a sustainable lending level. We are working on this issue," ADB President Takehiko Nakao said in Greater Noida.

Addressing the first press conference after taking over as ADB chief last month, Nakao said in India there are many projects, including the Delhi Mumbai Industrial Corridor, highways and rail projects which the ADB would be interested in promoting.

Nakao said participation of private sector was necessary to promote infrastructure in emerging economies as the capacity of lending of the multilateral lender is 'limited'.

He said while over the 10 year period, the infrastructure financing needs for Asian countries would be $8 trillion, whereas the bank's capacity of lending is $10 billion.

"We have to continue to mobilise resources for infrastructure financing through good taxation and mobillise savings of people to investment in infrastructure," he said.

He noted that it was only through infrastructure development that poverty could be eradicated.

"Co-financing with the private sector and attracting offshore money would act as a catalyst in promoting infrastructure finance," he said.

Answering questions on the growth potential of Asian economies, Nakao said Asian growth has been more robust than expected after the global economic crisis in 2008.

"It is because of domestic and indigenous demand that India, China and other emerging market economies in Asia have enjoyed stronger growth and I think it will continue," he said adding Advanced Economies would continue to have slower growth for now but Asia will have stronger growth led by strong consumption demand.

To a query on ADB's strategy after the establishment of the proposed BRICS Bank, Nakao said: "We can support the BRICS Bank if necessary. . . We don't have to change our business model because of BRICS Bank."

The BRICS Bank is seen as an institution complementing the World Bank or the ADB and addressing the infrastructure funding requirements of the member countries -- Brazil, Russia, India, China and South Africa.

ADB is dedicated to reducing poverty in Asia and the Pacific through inclusive economic growth.

Established in 1966, it has 67 members.

In 2012, ADB's assistance totalled $21.6 billion, including co-financing of $8.3 billion.
Image: ADB Bank | Photograph: File photo/Reuters