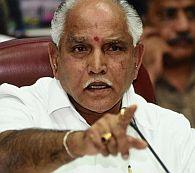 Former Karnataka Chief Minister B S Yeddyurappa, who faces an acid test in the May 5 assembly elections, has said that there will be no government in the state without his support.

Speaking to media persons, Yeddyurappa pointed out that his quitting the BJP had not made any difference to him and during his tours across the state, he realised that he was still the tallest leader in the state.


"Let anyone throw allegations against me, but I have the love of the people with me. You will witness this on May 8 when the results are out," he said.

Yeddyurappa, however, did not say that he will get an absolute majority in the elections.


He appeared to be upset about the manner in which some BJP leaders were targeting him on the issue of corruption.

"Why are they targeting me? Are all of them clean? You know how many continue to sit in high office in the BJP despite being corrupt. These are double standards," he alleged.

He further took a dig at Chief Minister Jagadish Shettar, stating that the latter had not managed the state properly and added that there was no chance of the BJP winning in Karnataka.