At a popular restaurant on Residency Road here, tension was palpable among the staff, working with grim faces during the busy lunch hour. The reason: An overnight exodus of 40 employees belonging to the country's northeastern region. Close to 10,000 people from the Northeast, working in various business establishments here, have left the city in a hurry over the past 24 hours, after rumours that there is a threat to their lives.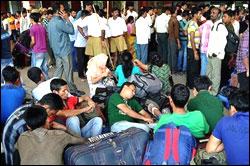 This has come in the wake of the violence between Bodos and Muslim settlers in Assam and the consequent tension, including subsequent violence in Mumbai. Northeast people are now becoming target of violence in several parts of the country. Rumours are being spread to create fear in the minds of the northeast people.
"Sir, too much tension today; majority of my workers have left," said a supervisor, busy giving multiple commands to the leftover staff to manage the situation. It was a similar situation at a pub opposite this restaurant.
The overnight exodus has caused ripple effects among various sections of trade and commerce in the tech city. Traders and businesses are worried that large-scale exit of workers hailing from the NE would jeopardise their business; it would be very difficult to find replacements. The most affected are hotels and restaurants, security agencies, beauty parlours and shopping malls.
Karnataka Chief Minister Jagadish Shettar reviewed the situation with the home minister, home secretary, chief secretary and police chief. He also met representatives of NE communities, assuring them of full security.
"If the people of the northeast leave Bangalore in large numbers over the next few days, the hotel industry will be worst affected, as it is very difficult to find replacements. A lot of people from Assam, Arunachal Pradesh and Nagaland are engaged as cooks, captains and waiters in many hotels, especially restaurants serving Chinese and north Indian cuisine," said Vasudeva Adiga, president, Bangalore Hoteliers Association, and owner of the Adiga chain of restaurants.
Close to 10,000 people are working in various hotels and restaurants in Bangalore and many hotels have reported an exodus of workers in the past two days, Adiga said.
The police estimate 2,50,000 people from NE states are working in Bangalore, in hotels, security agencies, shopping malls and beauty parlours, besides students.
Security agencies employ around 1,00,000 people in Bangalore and 15-20 per cent of these are from the northeast, according to the Karnataka Security Services Association vice-president, Lt Col (Retd) Darshan Bal. About five to seven per cent have already moved out, and they fear more will move out next week. Of the 9,000 people employed by Bal, 2,000 are from the NE, and already 600 have left.
Meanwhile, Andhra Pradesh Police on Thrusday claimed there was no mass exodus of people from the northeast living in the state capital, Hyderabad, and sought to allay their fears about safety and security.
Maharashtra CM Prithviraj Chavan on Thrusday assured protection to students from the northeast, in Pune and other parts of the state. "Students would be given adequate protection. I have spoken to the DGP in this regard," Chavan told reporters in Mumbai.
"We are trying our best to stop the rest by installing confidence but there are a lot of rumours going around. In addition to our direct dialogue with employees, our clients are also talking to people, to offer them alternate accommodation. Even house owners are talking to them, offering help," Bal said.
K P Nagesh, president of KSSA, said they were adopting some short-term measures to tide over the crisis. "Usually, whenever there is a new hire, we put them through a 21-days training. Owing to such a situation, the duration of such training is being curtailed to around 10 days and they get on-the-job training. We are asking many of the other employees to put in four hours of extra work for the time-being and we are going for emergency recruiting," he added.
Dhaniram Das, from Kamrup district in Assam, said he migrated to Bangalore in search of a job eight years earlier and now earns about Rs 15,000 a month in a security agency. He says he's deeply pained at having to leave such a job and return, as the most he expects to earn in Assam is about Rs 3,000 a month. There are about 20 people from his village in Bangalore, working alongside.
A popular upmarket premium beauty parlour has already reported the exit of three out of its five beauticians in the past 24 hours. A large number of beauticians in Bangalore are from the NE states.
"The problem in Assam is not religious or communal, but that of the Indian versus the outsider. Anti-national people are involved in this violence," BJP president Nitin Gadkari.
"We must work together to ensure that all people from other states do not feel threatened by rumour mongering and SMSes. We have to maintain peace at any cost," Prime Minister Manmohan Singh.