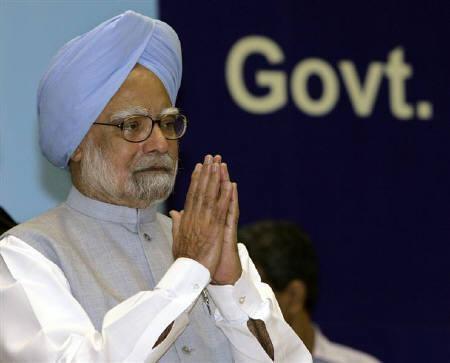 Yet another book has come out damming the previous UPA government with former TRAI Chairman Pradip Baijal alleging that the then Prime Minister Manmohan Singh had warned him of harm if he did not cooperate on 2G telecom licenses.
An accused in the 2G spectrum allocation scam case, he also claimed that the CBI wanted him to "implicate" Arun Shourie and Ratan Tata in the case.
In his self-published book, "The Complete Story of Indian Reforms: 2G, Power and Private Enterprise - A Practitioner's Diary', Baijal, who was appointed head of the telecom watchdog by the NDA government in 2003, said the 2G scam trail began under UPA's Telecom Minister Dayanidhi Maran regime.
"They (CBI) had warned me in each case that I would be harmed if I didn't cooperate. Incidentally, this was exactly what the eminent economist Prime Minister had told me would happen if I did not cooperate in their scheme of things in the 2G case," Baijal writes in an apparent reference to 2G case and disinvestment issues.
There were no immediate comments available from the former Prime Minister, while Baijal told PTI "I have said everything.
It is 100 per cent correct and I have evidence to prove everything." This is the third book in last more than a year that has come to haunt Singh and his government about state of affairs during his regime.
The first book was written by his aide and media advisor Sanjaya Baru and later by former coal secretary P C Parekh who is also an accused in the case relating to coal blocks allocation.
Baijal said he was "not treated properly" after he gave recommendations on the unified licensing regime.
"That led to many problem and that led to adverse inference against me by the ruling party then."
"When I met Prime Minister late, he said that you must listen to your minister and you must take his view in to consideration. I said his view will get me in to lot of trouble," he said.
Maran, who was telecom minister in UPA-1 from May 2004 to 2007, threatened Baijal with "serious consequences" if he gave recommendations on Unified Licences that would have replaced the old system of giving out permits on first-come-first-serve basis.
"Dayanidhi Maran told me in my first meeting with him not to give Unified Licensing recommendations as directed by the Cabinet of the previous government.
He further indicated that there would be serious consequences if If I did," Baijal wrote. When he took up the matter with the then Prime Minister Manmohan Singh, he wrote that "The PM also told me to cooperate with my Minister in the coalition government he headed, since non-cooperation could compromise his government."
Baijal said that both Maran and his successor A Raja suppressed his recommendations and sold spectrum to "a selected few without following any rules or procedures."
He claimed that CBI wanted him to implicate "Ratan Tata and Arun Shourie".
Baijal writes that Maran knew exactly about discussion between him and Singh.
"I can only surmise that they were all working in tandem possibly along with the PM, Chidambaram and Kapil Sibal at different stages and were guiding the CBI enquiry, getting files removed and, making false statements in the media to make a case against the erstwhile TRAI." Baijal has alleged that Ratan Tata in 2004 informed him that "he was being threatened by Dayanidhi Maran that unless he accepted the merger of Tata Sky with Sun TV, he would ruin him.
Ratan Tata refused to cooperate."
"They would alternatively threaten to harm me and my family and then dangle a carrot of sparing me if I implicated Ratan Tata and Arun Shourie," he wrote. Baijal said that his recommendation was meant to replace Unified Access Services Licence that were allocated with spectrum but TRAI's "recommendation was not considered and the old regime continued which led to 2G scam later."
The recommendation on UL was followed by another recommendation on spectrum related issues in May, 2005 that suggested bidding of spectrum in case adequate spectrum is not identified despite best efforts. He said that bidding process must be avoided in view of the existing high burden of license fee, service tax, spectrum charges, etc.
"Had I cooperated with Dayanidhi Maran and the PM, I would have been in jail today, held guilty for the 2G scam," Baijal said.
Baijal said that he flagged issue of Maran being appointed as minister as he is also a broadcaster but the "PM dismissed the concerns with serious argument that there is no conflict of since TRAI was an independent regulator."