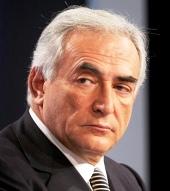 Disgraced former IMF chief Dominique Strauss-Khan has filed a $1- million countersuit against a hotel maid who accused him of sexual assault, citing that her allegations a year ago had cost him a shot at running for French presidency.

A year after the scandal broke out, the former socialist presidential frontrunner accused the maid, Nafissatou Diallo, of  'knowingly and intentionally making a false report to law-enforcement authorities" that cost him his job, New York Post reported.

Strauss-Khan claimed that the 'malicious and wanton false allegation' damaged his reputation worldwide and caused him to lose 'other professional opportunities'.

The countersuit filed in the Bronx Supreme Court, however, did not specify the job prospects that he lost.

But elsewhere in court papers, he said "that he 'was considered by some to
become the next president of France.'" Socialist François Hollande has since won the presidentship, narrowly defeating incumbent Nicolas Sarkozy.
The countersuit charges Diallo with malicious prosecution, abuse of process, false imprisonment, defamation and intentional infliction of emotional distress.
The philandering Frenchman, who's married to journalist Anne Sinclair, admits that he and Diallo 'engaged in mutually consensual sexual acts' in his luxury suite at the Midtown Sofitel hotel.
But after Diallo 'falsely reported that she had been sexually assaulted,' Strauss-kahn said he was arrested and 'subjected to a degrading and humiliating strip search; photographed naked; and forced to provide penal (sic) swabs as part of a forensic examination.'
"Strauss-Kahn also was paraded in front of international media in handcuffs as part of a 'perp walk' intended to humiliate him, even though he committed no crime," his countersuit says.