It is widely believed that Aneesh Chopra, who resigned last week as the first White House Chief Technology Officer, is mulling a run for Lieutenant Governor of Virginia, and is likely to make an announcement soon once he forms an exploratory committee and is confident that he can raise the millions of dollars required to make such a bid for elected office viable.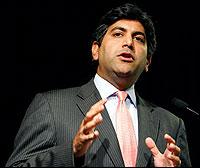 Sources told rediff.com that considering his almost three-year stint with the Obama administration and his earlier incarnation as Chief Technology Officer in the Democratic Governor Tim Kaine administration and the contacts and network of high tech heavyweights in the state he has developed over the years, raising the monies shouldn't be a problem.
When he was appointed by President Obama in May 2009, which necessitated Chopra to move to DC, he however, did not give up his home in Richmond - the capital of Virginia - and it was well known that his love for politics and the fact that he had told several of his well-wishers that he would one day like to run for statewide office, would gnaw at him, sooner than later.
According to the sources, besides the mainstream technology heavyweights comprising CEOs of leading companies in the Northern Virginia Dulles Corridor - considered the Silicon Valley of Virginia - who had interacted with Chopra from his days at CTO in the Kaine administration - who would gladly open their wallets for him, established Indian American heavyweights in the technology sector and major political fund-raisers like Sudhakar Shenoy, chairman and CEO of IMC, Inc, and erstwhile president of the Northern Virginia Technology Council and philanthropist Ranvir Trehan could also be counted on to back Chopra's political ambitions to the hilt.
Even as he flirts with the idea of running for Lieutenant Governor of Virginia, Chopra has indicated that he will now campaign feverishly for the election of his former boss Kaine, who is running to replace retiring Democratic Senator James Webb, and his most immediate boss, President Obama in his re-election bid, particularly since the president is likely to encounter a tough fight to recapture the support he enjoyed in 2008 in this swing state, which following Kaine's tenure, elected a Republican Governor, Bob McDonnell, who name is being touted as a possible GOP vice presidential candidate.
Chopra is expected to test the pulse for a possible run at the Virginia Democrats' biggest fund-raising event of the year, when he attends the Jefferson-Jackson dinner on February 11 in Richmond, where nearly 2,000 activists are expected to attend, including some of the biggest high rollers of the party.
Sources said that it would be at this dinner, he could get a sense of the support he would have compared to the other Democrats who have also expressed an interest to run for the Lieutenant Governor position like former House Minority Leader Ward L Armstrong, state Senator Ralph S Northam who represents Norfolk - which boasts of the largest naval base in the world - and House Assemblyman, Kenneth Cooper Alexander, also of Norfolk.
But with his White House stint under his belt and the close association and friendship he's built up with Kaine and former Virginia Governor and now US Senator Mark Warner - currently also the co-chair of the India Caucus in the US Senate not to mention his vast network of friends and contacts in the tech sector both in Richmond and Northern Virginia, the sources acknowledged that Chopra would be at a distinct advantage over his primary opponents, if he does decide to run.
In a statement released by the White House, preceding the news leaking out that Chopra was exploring a run for elected office, Obama, announcing the departure of Chopra said, "As the federal government's first Chief Technology Officer, Aneesh Chopra did groundbreaking work to bring our government into the 21st century."
Aneesh found countless ways to engage the American people using technology, from electronic health records for veterans, to expanding access to broadband for rural communities, to modernizing government records," the President said, and added: "His legacy of leadership and innovation will benefit Americans for years to come, and I thank him for his outstanding service."
John P Holdren, Director of the White House Office of Science and Technology, said in a blog post that "Aneesh had a dizzying array of accomplishments" which included crafting of the "development of nationwide public safety broadband network," and establishing "a set of Internet policy principles, including The Consumer Privacy Bill of Rights" and leading "the implementation of the President's open government strategy focused on unlocking the innovative potential of the federal government to solve problems and see the jobs and industries of the future."
Chopra in a statement said, "After an incredible three years as the nation's first chief technology officer, I am returning to my home state of Virginia to continue my work using innovative new technologies and platforms to improve healthcare, education and energy - and to grow the jobs and industries of the future."
"I want to thank the President for entrusting me with the task of fostering an innovation culture in government, and for his direction, engagement, and the leadership on applying technology for the betterment of all Americans," he said.
Chopra, when he served as Secretary, Technology, in Kaine's cabinet, was the lead player in effectively leveraging technology in government reforms to promote Virginia's innovation agenda and to foster technology-related economic development.
Five years ago, when Kaine, who was to lead the high-powered Virginia trade delegation to India had to cry off at the last minute due to the Virginia Tech tragedy where several students and faculty were massacred by a lone gunman, Chopra led the delegation, which also included Vivek Kundra--who resigned last June as the White House Chief Information Officer--at the time also held a cabinet position in the Virginia government as Assistant Secretary of Trade and Commerce.
It was Chopra who was responsible for recruiting Kundra to the Virginia administration, hardly a week after he himself was appointed as the top technology cabinet official by Governor Kaine.
Before joining Kaine's Administration more than three years ago, Chopra worked as managing director with the Advisory Board Company - a publicly-traded health care think tank serving nearly 2,500 hospitals and health systems--leading the firm's Financial Leadership Council and the Working Council for Health Plan Executives. He also assisted in the launch of the firm's first business intelligence software solution, Compass.
He is an alumnus of Johns Hopkins University from where he received his bachelor's degree and Harvard University's Kennedy School of Government, from where he received his master's in public policy.
Chopra, was the co-founder of the Indian American CEO Council in Washington,DC, which has now tied up with The Indus Entrepreneurs (TiE) and become its DC chapter.
During the transition, after the election of then Senator Obama as President,  both Chopra and Kundra served as team leaders in the information and technology development and were responsible for helping to set up many of the websites of the transition.
During the campaign, Chopra, was the warm-up act along with Kansas state legislator Rajiv Goyle in the major Asian American fundraiser in Washington, DC for Obama, with the Indian Americans in the Washington,DC area pushing for and making sure Chopra got a slot to speak at the event which featured Obama himself, as a means to showcase an Indian American who had helped Virginia shine as a technology innovator and job creator.
Just after the election, Chopra said, 'I would simply just say that one theme coming out of the election, will be Obama's commitment to excellence and when that message is heard, that really means that our community has a chance to rise in almost any discipline where we've had the chance to compete."
He thus predicted that "the best and the brightest will rise to the top and what's exciting about this opportunity is that experts from our community that represent excellence are going to have a key role to play in the Obama administration."
Chopra argued that "so, I don't see the older model of fighting for token slots for people that will plug in that 'I need to have a minority here, a minority there.' I think that across the board, there will be open competition and you are going to find probably the best and the brightest from our community step up and serve."
"It's exciting because there's a growing bench of people from our community who have got the experience and I believe it will be a pretty exciting growth rate in the number that will serve in an Obama administration, and, I think that will be very exciting for the Indian American community."