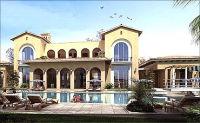 The Enforcement Directorate on Tuesday slapped a Rs 8,600 crore show-cause notice on construction major Emmar MGF Land Ltd and its sister firms for alleged forex rules violation, the biggest such penal action in country's real estate sector.
The agency, which began an investigation in 2010 with regard to the group bringing in Foreign Direct Investment (FDI), alleged that the firm has violated the rules stipulated by the RBI in this regard and hence it stands guilty of "contravention of foreign exchange rules" stipulated under the Foreign Exchange Management Act (FEMA).
The agency claimed to have found in its probe that the group had disclosed to RBI that it is bringing FDI for developing construction related projects in India but it used the funds for purchasing agricultural land, which is a violation of rules framed by the banking and FDI regulator of the country.
"We have not received any communication from government authorities and hence we are not in a position to comment. We emphasise that the company continues to uphold the highest standards of corporate governance and follows the laws of the land," a spokesperson for Emmar MGF said in an email statement to PTI.
It is expected, sources said, that the penalty proceedings against these violations would also be undertaken which could take up the total penalty amount to Rs 25,000 crore which is 300 per cent of the violations detected.
The agency, which enforces forex laws in the country, found that funds were received by the company and its "four subsidiaries from Dubai, Cyprus, Mauritius and other foreign countries under the FDI scheme of RBI since April 2005 to the tune of about Rs 8,600 crore."
Emaar MGF Land Limited is a joint venture between Emaar Properties of Dubai and MGF Development Limited of India.
The ED, in its order, said "the scheme of RBI has given facility to Indian companies under automatic route to receive funds from abroad for a number of business activities including the construction development projects. In this hassle free facility, Ms Emaar MGF Land Ltd and its subsidiaries had to disclose the purpose for which FDI was received".
It claimed that the company and subsidiaries disclosed the use of FDI in construction development projects "but utilised the overseas funds in the purchase of agricultural land/lands in India and thus have utilised the overseas funds in the business neither disclosed to RBI nor permitted in the FDI scheme of RBI.
Investigation has revealed that foreign investments received by the companies were utilised in the purchase of agricultural lands through various methods either directly or through other associated companies by diverting overseas funds to them, the ED order said.