Less-than-expected rainfall and a poor spatial distribution, experts say, can rekindle fears of a rise in food and fuel inflation that can have an impact on the RBI's monetary policy.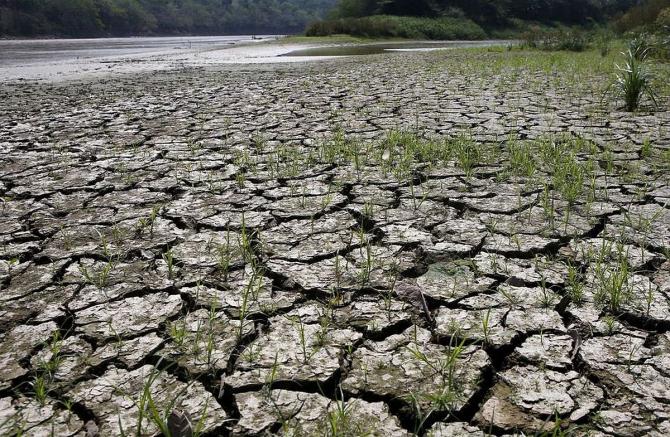 The fear of less than optimal rainfall due to El Nino this year, analysts believe, is the biggest short-term risk for the markets, which they said has not been fully priced in yet by them.
Monsoon set over Kerala on June 08, a week later than its scheduled date.
"Markets (Sensex) have run up almost 3,000 points in the last few weeks and some correction / consolidation is due.
"With this backdrop in, mind traders will find El Nino worries too hot to handle.
"We believe the markets are ripe for some healthy correction, and El Nino could be that trigger," said Apurva Sheth, head of market perspectives & research at SAMCO Securities.
El Nino – a weather phenomenon that occurs when ocean temperatures in the central and eastern Pacific Ocean rise above normal and cause changes in atmospheric patterns.
This, in turn, sees the monsoon weaken over the Indian subcontinent.
As a result, the Indian monsoon tends to be weaker and less reliable during El Nino years.
Watch: How to identify potential winners in the stock market?
Less-than-expected rainfall and a poor spatial distribution, experts say, can rekindle fears of a rise in food and fuel inflation that can have an impact on the Reserve Bank of India's (RBI's) monetary policy, too.
On its part, the RBI also remains concerned about inflation and has lowered its fiscal 2023-24 (FY24) forecast by a modest 10 basis points (bps) to 5.1 per cent.
"I am concerned about the El Nino that is developing and the fact that that may lead to a continuation of, or worsening of, very hot and dry conditions in India, which in turn could have an effect on the rural sector.
"That's something we'll watch quite closely," said Jonathan Garner, Asia Equity Strategist at Morgan Stanley.
June rainfall over most parts of India this year are expected to be below normal, reports suggest, with the first eight days of this monsoon season already seeing nearly 60 per cent less than normal rains.
According to the Indian Meteorological Department (IMD), rainfall between 96 and 104 per cent of a 50-year average of 87cms is considered 'normal'.
On the other hand, rainfall less than 90 per cent of LPA is 'deficient'; between 90 per cent and 95 per cent is classified as 'below normal', between 105 per cent and 110 per cent 'above normal', and above 100 per cent is termed as 'excess'.
"Risks from El Nino remain high and these could impact the upcoming kharif crop and fuel, food inflation.
"While the IMD projects monsoon to be normal overall, its temporal and spatial distribution will critically affect food output this fiscal," said Dharmakirti Joshi, chief economist at Crisil.
Not so bad
That said, not all El Nino years have been bad for the markets.
In the last two decades (since 2002), there have been four El Nino years in India – 2002, 2004, 2009 and 2015. Barring 2015 when the S&P BSE Sensex and the Nifty50 slipped 5 per cent and 4.1 per cent respectively during the calendar year, the markets on all other occasions have been in positive territory, data shows.
Meanwhile, thus far in calendar year 2023-24 (CY24), the S&P BSE Sensex and the Nifty50 have gained around 3 per cent each.
Mitul Shah, head of research at Reliance Securities also believes that the markets would watch out for monsoon for the next one-two months before deciding their trajectory.
The delayed monsoon is already making investors cautious, he said, though the latest RBI monetary policy provides some relief.
"Fast moving consumer goods (FMCG), tractors, two-wheelers, fertiliser and dairy-related companies are negatively impacted by poor rainfall.
"However, export-oriented sectors like pharma and IT could be a good bet if the monsoon disappoints as they have limited impact from a poor monsoon," Sheth of SAMCO Securities said.