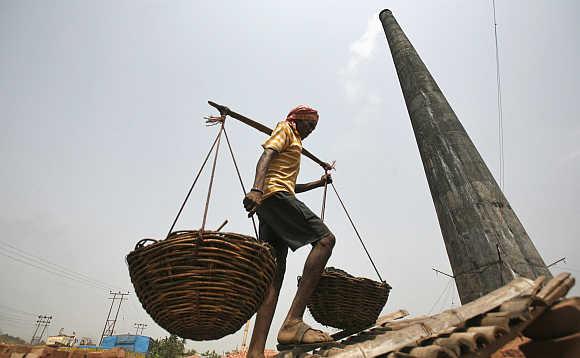 Unlike the Advance Estimates which missed the impact of demonetisation, CEA's survey is likely to have a better take on the Indian economy.
The gross domestic product estimates in the Economic Survey, to be presented on January 31, may be able to encapsulate the effects of demonetisation better than the advance estimates, which will be released by the Central Statistics Office on Friday.
This is because the CSO's advance gross domestic product estimates, on which the finance ministry will base its Budget numbers, will likely be based on the data till October, before the announcement of demonetisation.
Hence, they might paint a better picture of the economy than is the case.
Chief Economic Adviser Arvind Subramanian is expected do his own research, on the basis of the CSO's data, to present a clearer picture of the impact of Prime Minister Narendra Modi's announcements on the economy on December 31.
Subramanian may look at proxies for November and whatever data are available for December, including the core sector, the index of industrial production (to be released on January 12 for November), and first advance estimates for the rabi crop, Business Standard has learnt from sources.
Hence, the data provided by him could better capture the impact of demonetisation. As such, during the normal course, the Economic Survey uses the advance estimates as well. The idea is that the Survey will take the advance estimates and use the proxies to give greater detail.
Business Standard had reported earlier that the Survey was likely to contain a chapter on demonetisation and its short-term and long-term impacts on the economy.
The Budget planners will base their final revenue, expenditure, fiscal deficit numbers and all other projections on the advance estimates. Hence it is possible that those numbers, too, will be optimistic. When the provisional GDP estimates are released in May, they could be markedly different from advance estimates.
According to sources, the GDP numbers in the Economic Survey could therefore be closer to the provisional data for the current fiscal as compared to the advance estimates.
Traditionally, the CSO published advance estimates of GDP growth on February 9. To arrive at these estimates, it would take the actual data for the first three quarters of the fiscal and forecast growth for the fourth quarter based on past trends.
With the central government having decided to table the Union Budget in Parliament on February 1 and the CSO advancing its release of the advance estimates in the first week of January, much of the third-quarter (October-December) data will not be available for the CSO.
The advance estimates data are expected to have a disclaimer stating that they have not fully captured the effect of demonetisation.