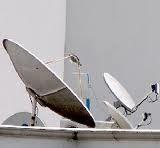 It all began in October 2003 when the government gave out the licence to Dish TV, part of the Zee group, to operate direct-to-home services after a long debate.

That was nearly seven years after Star TV had made an aborted attempt to bring in the new technology taking advantage of the fact that the sector was totally unregulated.

But the government, confronted with growing concerns that it could lead to a security breach (just like in telecom) and cultural invasion of the West, decided to do the easiest thing: ban DTH.

Understandably, when Dish TV launched its services, in a market dominated by cable operators, it decided to move cautiously.

The strategy was to not to concentrate on metros and large cities, where cable reigned supreme, and instead go to remote areas and rural markets where laying cable was not viable and consumers were starved for good content.

It entered the market with limited programming: essentially the Zee bouquet and a few other channels.

The action shifted to the urban markets when Tata Sky, which stared service in 2006, chose to target the subscribers who were unhappy with analog cable.

"In 2006, when we started, we were clear that our target will be the urban markets which were looking for good-quality viewing and customised choice of the programmes, and were ready to pay a bit of premium (analog cable did not provide them this) for it," says Harit Nagpal, CEO of Tata Sky.

Ten years after Dish TV's entry, DTH has become a force to reckon with.

With over 40 million active subscribers (as of March 2013), it has grown tenfold from just 4 million customers six years ago.

And it is no longer a rural phenomenon: 60 per cent of its subscribers are in the country's top 20 cities. Its share of the total satellite (cable and DTH) homes has gone up from 23 per cent in 2009-10 to 30 per cent now.

Industry analysts say that by 2017-18, it will control over 36 per cent of the total subscriber base.

That is why private equity funds like India Opportunities Fund (which has invested in Tata Sky) and a whole host of others like KKR and Bain Capital (it is in talks with Airtel DTH) are keen to invest in the sector.

The reasonwhy they are bullish is that DTH is adding over 8.5 million subscribers a year, while cable is growing at a fourth of that number.

The phenomenal growth is backed by huge investments: the seven DTH operators have together put in over $4 billion to make it happen.

So, what explains the magic of DTH? Obviously, the key is its high-quality signal, especially for those consumers who were used to analog TV.

Also, it has provided customers the choice to see what they want rather than being at the mercy of the cable operator.

Faltering start

Yet, there were initial glitches. Dish TV and Tata Sky, the two rivals, were locked in a bitter courtroom battle over their refusal to provide their content (Zee and Star bouquets, respectively) to the rival platform which limited the choice for customers.

However, DTH got a huge boost in 2008 when four new players -- Sun, Airtel, Reliance and Videocon -- entered the market and the issue of content got resolved.

The boost it gave was reflected in the heady growth of DTH subscribers: up a staggering four to five times in the four years between 2007 and 2011.

The DTH phenomenon has been good news for broadcasters.

They had alleged that cable operators were deliberately under-reporting their subscriber numbers, which helped them pocket a large chunk of the subscription money.

This hurt all the more, the broadcasters said, as they were spending more and more on content.

This problem was addressed by DTH -- there is no scope for under-reporting subscriber numbers here.

Thus, DTH operators contributed over Rs 2,500 crore (Rs 25 billion) as subscription revenues to broadcasters in 2012-13, which is 51 per cent of what they got from cable and DTH households put together.

Yet, their share of the total subscriber base is only 30 per cent.

What it means is that broadcasters get virtually more than double from each DTH subscriber in comparison to a cable subscriber.

Going forward, analysts say, with over 70-80 million non-TV households, rural India holds great possibilities for DTH.

Says Salil Kapoor, COO of Dish TV: "For us, 50 per cent of the subscribers are in rural markets and we expect this to go up once digitisation of cable happens (across the country, as mandated by the government)."

Some people feel that the digitisation drive could actually halt DTH's
growth.
After all, they ask, why will subscribers now want to shift to DTH as the cable operator will provide the same high-quality service? DTH operators like Tata Sky say that it will help them.
For instance, in the first phase of digitisation in the four metros, the DTH operators have been able to grab 20 per cent of the subscribers who instead of shifting from analog cable to digital cable preferred to go to DTH.
Kapoor says that Dish TV will be able to grab even a larger portion of the analog cable subscribers when they will be pushed to go digital in small towns and villages which have limited cable reach and sometimes no reach at all.
DTH operators say only 15 per cent of the country's pay TV subscriber base has been covered in the first two phases of digitisation; so there is a huge market waiting to be tapped and converted into DTH subscribers —those who are now on analog cable.
Tough task
But cable operators say this is just wishful thinking.
"The technological difference between analog cable and DTH is now gone.
"With digital cable, we provide everything and more; so why should the subscriber want to shift at all.
"You get customised choice, more channels, we have introduced HD (high-definition) signal and also have video on demand and we even offer internet which they don't; their incremental growth is over," says a top executive of a large multi-system operator.
However, DTH operators don't agree. Tata Sky says there has been no slowdown in its monthly net additions in the four digitised metros, which clearly means that there are enough customers who are shifting from digital cable to DTH because it offers better quality.
One key reason, they say, is the attraction of HD which they offer across the country, unlike cable operators who have started it in very limited areas.
DTH operators say that already 30 per cent of their incremental customers every month are taking HD packages and set-top boxes.
And this helps in pushing up average revenue per user (ARPU) by 10 to 20 per cent.
(DTH ARPUs are at Rs 160 to Rs 220 a month, which is in line with digital cable ARPUs).
What has also helped is that there are already 40 to 50 HD channels available for the customers to choose from.
DTH operators are also building their catalogues for video-on-demand services which currently constitute an insignificant portion of their revenues.
But Internet-enabled set-top boxes and high-speed broadband expected to come with 4G, or fourth-generation, telecom services, they say, could make it a key source of additional revenue in the days to come.
And they are increasing their programming range too.
For instance, Tata Sky which has 250 odd channels (Dish TV has over 400) is now planning to add 10 to 15 channels every month.
Nagpal says that this will provide more choices to customers, and ARPUs will increase not by any increase in tariffs but by wooing customers to see more channels.
Yet, there are some major challenges which DTH has to combat.
Its acquisition cost of a subscriber is more than double of that of digital cable, as it has to subsidise each set-top box by Rs 3,000 to Rs 3,500.
The depreciation of the rupee has made it worse because most set-top boxes are imported.
DTH players recently passed on some of the costs to subscribers, but they cannot do so indefinitely when they are looking at deeper penetration in the market.
As a result, the bottom-line of most of them is under pressure and companies like Dish TV and Airtel's DTH business are in the red.
The other concern is the tax burden on operators which is squeezing profitability.
As much as 33 per cent of their top-line goes to pay the government: 10 per cent as revenue share and another 23 per cent as service and entertainment tax (on an average; it varies from state to state).
The DTH industry has been lobbying hard against it.
Still, despite the problems, and the push towards digitisation which will bring them in direct confrontation with the cable operators, the DTH companies are readying for the next phase of growth.