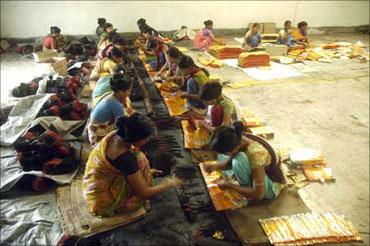 The Mahatma Gandhi National Rural Employment Guarantee Scheme faces a pincer attack under the National Democratic Alliance government, with parallel moves promising to shrink and mutate the nature of the scheme.

Two of the moves have been revealed -- a proposed higher proportion of expenditure on material, reducing the budget available to pay wages, and a focus on implementing the scheme only in the poorest 2,500 of India's 6,275 blocks.

The third cut being inflicted on the scheme could be the deepest -- unprecedented delay in payments to beneficiaries.

Till October 20 this year, about 70 per cent of all payments, totalling a whopping Rs 8,407 crore (Rs 84.07 billion), hadn't been paid within the statutory 15 days, the most severe delay in the history of the scheme.

In 2013-14, about half the workers received payments on time.

By October 20 this year, Rs 3,604 crore (Rs 36.04 billion) in wages were due for 15-30 days; another Rs 2,997 crore (Rs 29.97 billion) hadn't been paid for up to two months and Rs 1,199 crore
in payments were pending clearance for up to three months.
Wages amounting to Rs 607 crore (Rs 6.07 billion) had not been paid for more than three months.
Though states hold the primary responsibility for such delays, the Centre's disinterest in setting strict regulations has let the delays go out of hand.
Worse, the statutory obligation of states to compensate workers for delay in payment of wages has now been disregarded almost universally.
As of October 20, state governments owed wages for 2.9 billion work days. Besides legitimate dues, they owed Rs 117.41 crore (Rs 1.17 billion) in compensation.
Union government records show Rs 157.66 crore (Rs 1.57 billion) was not paid due to lack of sufficient funds with states.
Under the law, states should provide compensation for delay of more than 15 days in payments.
But most states rejected majority of compensation claims, paying only Rs 4.8 crore (Rs 48 million) to workers.
Only Maharashtra and Andhra Pradesh paid compensation.
During the United Progressive Alliance regime, the compensation rate saw a drastic cut -- to only five paise/Rs 100 of delayed wages, a day.