Months after take off, Durgapur airport in West Bengal struggles to stay afloat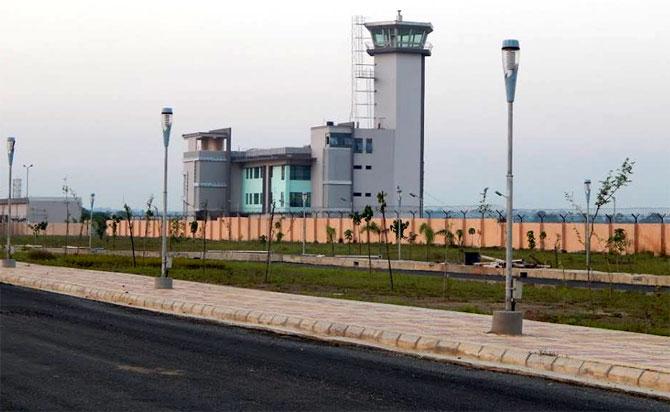 Close to three months after a star-studded take-off with Tollywood celebrities, India's first greenfield airport project, the Kaji Nazrul Islam airport in Durgapur is in trouble. Two non-scheduled flight operators -- Pinnacle Air and Spirit Airways-- have suspended operations and Air India's lone flight on the Kolkata-Durgapur route is faced with a low demand. Now, it's left to Bengal Aerotrolplis (BAPL) to go all out to keep the airport afloat.
Pinnacle Air, which was running flights from Kolkata to Cooch Behar four times-a-week, touching down at Durgapur and Bagdogra, along with Air India marked the beginning of commercial operation at Andal airport on May 18 this year. But poor demand has prompted it to suspend operations within months.
Spirit Airways, a non-scheduled flight operator, started three days-a-week services on the Kolkata-Andal-Patna route in mid-June. But it took them only a few weeks to decide that the service was not viable. When asked, regional manager (operations) of Spirit Airlines Gouranga Bhattacharya, did not want to comment on this.
Air India's six days a week Durgapur-Kolkata flight is also struggling to get passengers with the effect that the airport-surrounding looks nearly-deserted. Apart from a couple of CISF personnel and a handful of Air India staff roaming around, the site is anything but airport-like.
An Air India personnel on duty says, the average occupancy is about 15 to 16 daily. It is continuing the service as BAPL is subsidising the loss in accordance with a deal with Air India for viability gap funding.
"Apart from the flight hours in the evening you will hardly find anyone here. It is difficult for those working there as well, as there is only barren land all around. Hope things will change soon with the city coming up," said the staff.
BAPL managing direcor Partha Ghosh, promises to stand up to the hope. "Yes, occupancy is about 30 to 35 per cent now. These are very initial days. We are working on campaigns and promotions to make the airport popular and get more flights."
While initially the fare was fixed at Rs 2,500, Air India is offering promotional offer of Rs 999 (excluding taxes) for one way journey on Durgapur-Kolkata route. The AI flight takes off from Kolkata at 5 pm and lands at Andal airport at 5.45 pm daily. The return flight takes off from Andal at 6.05 pm and reaches Kolkata at 6.50 pm.

Many argue that there are cheaper and convenient ways to travel to Kolkata from Durgapur. Including taxes one will have to pay about Rs 1,300 for a one-way journey now. "A passenger needs to report to the airline counter two hours prior to departure. Then there is a 45-minute flying time. Also, after landing, one has to spend some time collecting baggage and then more than half an hour to drive from Andal to Durgapur. Compare it with a journey by road on a Volvo bus or an express train which takes hardly three hours," argued Anil Punjabi, chairman, east, Travel Agents Federation of India.
Pinnacle Air and Spirit Airways have already suspended operations and Air India's lone flight faces low demand
"BAPL needs to work with corporate houses, travel agents there to get the traffic. It has cultivate to its catchment area with more aggression. They will also have to focus on basic passenger amenities like non-avilability of transportation to and from the airport. Subsidising the flier or "seat underwriting" may not sustain for more than a year," he added.
According to him, BAPL may consider other routes like direct flights to Delhi or even an international flight to Dhaka, which may attract passengers. Here is an interesting perspective why a Durgapur-Delhi flight could attract more passengers. "Of the 10 to 15 passengers travelling daily from Durgapur, most are employees of SAIL, who take connecting flights to Delhi from Kolkata airport," said an Air India staff. It's a convenient for many SAIL employees to take the flight because of the through check-in facility.

Partha Ghosh said BAPL is in talks with Air India for the Durgapur- Delhi route, which will be the next offering, without giving any specific dateline. But, there is catch. A 48 seater ATR flight can't fly the distance of Durgapur to Delhi, it has to be A-319 flight which would have capacity of over 120 seats and to get that many passengers would be really difficult given the current scenario.

"As we talk we are carrying out promotonal events tying up with local clubs, institutions, local chambers of commerce. We are also engaging with all corporates in the the region

All through, BAPl has banked on the Asansol-Durgapur-Dhanbad industrial belt. The Asansol Durgapur Planning Area has a population of about three million. BAPL's catchment area accounts for facilities across the iron & steel, aluminum, locomotives, cables, specialised optical lenses, coal mining and power generation sectors, along with related ancillary units. Major units in the catchment area employ a large number of staff, of which 15 per cent is management cadre, says a BAPL internal assessment report. "There are 17 engineering colleges, two deemed universities, 18 polytechnics and management institutes within the project's immediate and extended catchment area," the report adds.
It is time for them to cultivate what BAPL has believed all these years. More so, as the future of the proposed airport city with an information technology park, hospitals and a residential complex, spread over 1800 acres also hinges on success of the airport to a great extent.
Photograph by Ananta Karmakar, courtesy, Kazi Nazrul Islam International Airport/Facebook