K Anji Reddy, promoter and chairman of the country's second largest drug maker Dr Reddy's Laboratories, passed away on Friday.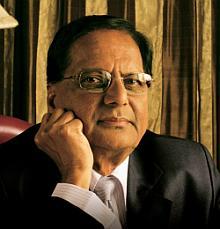 Reddy was 73-year-old and is survived by a son and a daughter.

He was born in Tadepalli in Guntur district of Andhra Pradesh. He had obtained his Ph.D in Chemical Engineering from National Chemical Laboratory, Pune.

Soon after his studies, he served in the state-owned
IDPL. Later in 1984, he founded DRL. Under his leadership, DRL has been a pioneer and trend-setter in the Indian Pharmaceutical industry, industry experts said.
Satish Reddy, his son is currently managing director and chief operating officer of the company, while son-in-law G V Prasad is the vice chairman and the chief executive.
A senior company official said Anji Reddy was not keeping well for some time.