A day before the Foreign Investment Promotion Board (FIPB) will take up the Tata-AirAsia joint venture (JV) proposal, Tony Fernandes, the promoter of the Malaysian low-cost carrier, on Tuesday announced on Twitter he had chosen the chief executive officer (CEO) for the Indian venture.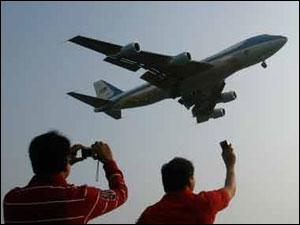 It is believed neither the ministries concerned nor the Department of Industrial Policy & Promotion had given their written comments on the AirAsia proposal for tomorrow's FIPB meeting.
However, some news agency reports suggested the civil aviation ministry could create hurdles for the proposed company, saying the new foreign direct investment (FDI) rules were meant only for existing airlines.
Earlier in the day, the Directorate General of Civil Aviation (DGCA) had notified the new rules for foreign direct investment into the aviation sector that permitted the positions of CEO, chief financial officer (CFO) and chief operating officer (COO) could be held by foreigners, subject to security clearance from the home ministry. Fernandes' announcement of going for a CEO with a South India link had come within hours of this.
"I have selected our CEO for AirAsia India. Very smart boy from the South, Madras. An amazing CV. Will impress all," he tweeted.
In another tweet, indicating the hiring for the proposed venture was on in full swing, Fernandes wrote: "Fantastic candidates put in front of me by Tata Sons. I can't believe the talent in India is amazing."
After FIPB has approved the proposal, the commercial launch of the venture would hinge on the civil aviation ministry giving it an air operator's permit. Before the announcement of the Tata-AirAsia alliance, Civil Aviation Minister Ajit Singh had told Business Standard no fresh licences would be issued because there was a demand-supply mismatch in the Indian skies.