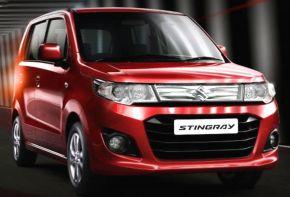 According to reports, in the two-wheeler space, Hero MotoCorp and TVS Motor have reported double-digit growth in overall sales in March, on a year-on-year basis.
For Bajaj Auto, aggregate volumes increased one per cent, after falling seven per cent and six per cent in January and February, respectively.
In the four-wheeler category, Maruti Suzuki reported a year-on-year fall of five per cent in total sales. On a monthly basis, however, the company's sales rose four per cent, according to reports.
For 2013-14, overall sales for Hero MotoCorp and TVS Motor remained flat, while Maruti Suzuki, Mahindra & Mahindra (M&M) and Tata Motors reported sharp declines in total sales.
Stocks surge
Despite the slump in overall sales in 2013-14, amid a slowing economy and high interest rates, the S&P BSE auto index and most of its stocks reveal an interesting picture.
In 2013-14, the index gained 33 per cent, outperforming benchmark indices S&P BSE Sensex and CNX Nifty, which gained 19 per cent and 18 per cent, respectively.
Among individual stocks, those of TVS Motor, Escorts, Maruti Suzuki, Tata Motors and Hero MotoCorp were among the top gainers, rising 47–200 per cent and outperforming the S&P BSE auto index.
What explains the surge in these stocks, despite the low sales?
Daljeet Kohli, head of research at IndiaNivesh Securities, says, "The performance on physical sales has been a mixed bag, with a number of companies reporting subdued performances. Companies are trying hard to push sales.
The excise duty sops didn't help much. The only sub-segment that is growing is the two-wheeler (scooters) segment.
The stocks, on the other hand, have run up on hope things will improve for the sector, especially the four-wheeler and commercial vehicles segments, after the elections, as the macro factors improve."
The road ahead
Despite the sluggish performance in FY14, most analysts are positive on automobile stocks and suggest selective buying. "FY14 was a difficult year for auto players, with some reporting de-growth in volumes.
In FY15, we expect volume growth to improve on the back of an expected improvement in the economic environment, new launches and a low base," says Arun Agarwal, a Kotak Securities analyst tracking the sector.
In a recent report, Aashiesh Agarwaal and Siddhartha Bera of Edelweiss Research said, "While new launches will continue to drive consumer interest, volume triggers remain elusive in the near term.
We remain positive on Tata Motors ('buy' rating; structural growth for JLR), Maruti Suzuki ('buy' rating, cyclical recovery and new launches) and M&M ('buy' rating, inexpensive valuations)."
Kohli of IndiaNivesh recommends buying Hero MotoCorp and M&M at current levels, from a medium- to long-term perspective.
The demand environment and the changing competitive landscape in the automobile sector will be the key determinants of stock performance, says Jinesh Gandhi, a Motilal Oswal analyst tracking the sector. He prefers Maruti Suzuki, Hero MotoCorp and Tata Motors among large-caps and TVS Motor and Eicher Motors in the mid-cap segment.