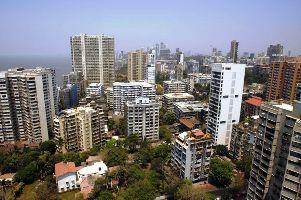 While Maharashtra's performance in recent years might appear uninspiring, given the slowing growth in its gross state domestic product, a large part of this can be attributed to the overall slowdown in India's economic growth.

The state has scored well on certain social parameters, though it has lagged on crucial ones such as health care and rural poverty.

Though GSDP growth surged from 2.58 per cent in 2008-09 to 10.24 per cent in 2010-11, it slipped to 7.13 per cent in 2012-13.

For 2013-14, it stood at 8.7 per cent, according to advanced estimates.

The 2008-09 period was one when the world was gripped by an economic slowdown, which led to across-the-board decline in economic growth.

In the period before that -- between 2003-04 and 2007-08 -- Maharashtra's GSDP growth averaged an inspiring 11 per cent.

Even if one considers the average growth in last three financial years, it has averaged 7.6 per cent; for 2009-10 and 2010-11, growth was higher due to a base effect and, subsequently, the stimulus provided by the central government.


The GSDP surge in 2010-11 is also partly due to the agriculture sector.

Though a small contributor, it expanded 17.8 per cent that year.

If agriculture is excluded, GSDP for that year stands at 9.5 per cent.

An economist with a foreign bank says, "Maharashtrahas done well on the growth front.

"It has improved, and this needs to be looked at in the context of the overall slowdown in the past few years.

"This is the case with most of the top states.

"If you look at employment, growth, etc, the state's performance hasn't worsened."

Maharashtra's former chief minister Prithviraj Chavan says, "In every sector, Maharashtra is ahead of Gujarat.

What is the Gujarat model? We are leading in horticulture, industrialisation, education and health, and are way ahead of others.

Maharashtra is the most investment-friendly state.

It contributes 18.4 per cent to the country's industrial output and accounts for 14.09 per cent of its GDP (gross domestic product).

The state has received investment proposals worth Rs 14,73,466 crore, while Gujarat got proposals worth Rs 13,98,347 crore."

Former Union minister and Nationalist Congress Party president Sharad Pawar shares a similar view.

He accuses the Bharatiya Janata Party of presenting an incorrect picture.

"The Planning Commission, in its reports, clearly showed Maharashtra was way ahead of Gujarat and other states. Maharashtra's portrayal as mafia raj by the BJP is quite dangerous, as it will bring disrepute to the state."

While there is little doubt about Maharashtra's achievements, it has lagged in many areas.

The economist quoted earlier said, "Maharashtra has the potential to do better.

"And that will depend on the party that wins the state elections.

"If the party at the Centre comes to power, it will help it pass necessary legislative Bills in the Rajya Sabha and push growth rates in Maharashtra."

In terms of the GSDP data for period between 2009-10 and 2012-14, Maharashtra stands third-its GSDP growth averaged 8.1 per cent, compared with 9.2 per cent for Gujarat and 8.3 per cent for Tamil Nadu.

Within GSDP, agriculture and allied activities have seen huge volatility.

From 15.5 per cent contraction in 2008-09, this segment has seen growth rates rise to as high as 17.8 per cent in 2010-11, only to slip back to negative territory (-2.1 per cent) in 2012-13.

Nevertheless, this segment is unlikely to have a significant impact on the state's overall growth, considering it accounted for about 10-11 per cent of GSDP, unlike states such as Haryana (16 per cent) and Punjab (40 per cent).

Maharashtra is known to be India's most industrialised state.

In 2012-13, industry accounted for about 30 per cent of the state's GSDP, while services contributed 63 per cent.

In the past five years, industry growth has been below-par, averaging 7.33 per cent, while services growth has averaged 9.6 per cent.

Devendra Fadnavis, president of the BJP's Maharashtra unit, says, "Several development projects were stalled during the reign of the Congress-NCP government.

"The state failed to approve many development plans through the past few years.

While BJP-ruled states have achieved double-digit growth in the agriculture sector, until last year, it was negative in Maharashtra.

The state has lost its pre-eminence to attract investment due to slow decision-making."

Among other reasons for the unimpressive growth in industry is the state's industrial policy.

For one, Maharashtra, among India's top automobile hubs, has lost to other states in the south, as well as Gujarat, in recent years.

Tax-related issues and lack of incentives saw companies invest in other states or reduce investment in Maharashtra.

Traders, too, were upset due to tax-related issues and higher costs.

Consider this: For the domestic and agri/irrigation segments, the rate of a unit of power has increased 26-28 per cent to Rs 5.24/Kwh and Rs 2.58/Kwh, respectively, through four years to 2013-14.

However, for commercial and industrial users, power rates have risen 45-59 per cent during this period to Rs 11.11/Kwh and Rs 7.72/Kwh, respectively.

Experts cite the high taxation on fuel, etc, as factors hurting investor/consumer sentiment.

Though Maharashtra still accounts for the largest share (about a fifth) of industrial investment and foreign direct investment, other states are turning aggressive and aiming for a larger share of the pie.

"A lot needs to be done to invite investments. For instance, policies have to be enabled in an investor-friendly manner.

"Recently, other states have started seeing a lot of higher growth and investment," says the economist with the foreign bank.

On the public finances front, though, Maharashtra stands out.

Its fiscal deficit, as percentage of GSDP, consistently fell from three per cent in 2009-10 to one per cent in 2012-13.

Though this has risen to 1.8 per cent in 2013-14, it is still the best among the top states.

This is despite the fact that growth in Maharashtra's total tax receipts, as percentage of GSDP, fell from 10.2 per cent to 9.8 per cent in the past five years, a contrast to the increase seen by the top five-six states.

Debt, as percentage of GSDP, has also been inching lower (similar to other top states).

D R Dogra, managing director and chief executive of CARE Ratings, says, "The ratio of gross fiscal deficit to GSDP, an indicator of the state's annual borrowing vis-a-vis the state's GSDP during the year, has been maintained below two per cent, lower than the three per cent norm, barring FY10, when the ratio was 3.1 per cent.

"Also, the state's debt-to-GSDP ratio has been below 20 per cent since FY11, well within the norms set by the 13th Finance Commission.

"Therefore, the debt levels have been maintained at prudential levels during these years."

But the decline in development revenue expenditure (as percentage of GSDP) is a worrying sign.

This has fallen from an average 6.8 per cent during 2008-10 to 6.7 per cent during 2010-13 and to 6.4 per cent in 2013-14 (Budget estimates), while non-development expenditure has been stable at 3.6 per cent of GSDP during these periods.

On social indicators, Maharashtra's performance is mixed.

The state's sex ratio (females per 1,000 males) and literacy rate have remained stable at 929 and 82.3 per cent (against the national average of 73 per cent, according to the 2011 Census), respectively, since 2010-11.

While the state added 35 per cent children to schools in the two years ended 2012-13, enrolments have risen more than half to 1.6 million.

The state has also undertaken measures such as free education for girls up to XII standard and focus on women and child development.

According to the India Human Development Report, 2011, while the country's Human Development Index reading was 0.467, Maharashtra's was 0.572.

However, the state lags on the health care front, given only 1.5-2.5 per cent growth in hospitals and dispensaries during this period.

The birth rate (births per 1,000 of the population) has slipped from 16.7 per cent to 16.6 per cent.

While the per capita state income is the second-highest among Indian states, at Rs 103,991, for 2013-14 (provisional), the decline in poverty levels for the rural folk (55 per cent of the state's population) has been slow.

Compared to the 48 per cent fall in the number of poor in urban areas through 2009-10 and 2011-12, the fall in the number of poor in rural regions was only 16.3 per cent.