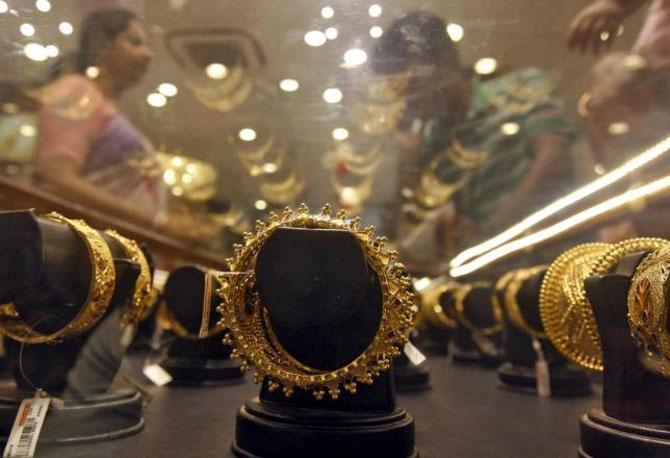 The prime minister said that people should buy sovereign gold bonds instead of the actual metal

Prime Minister Narendra Modi said on Sunday the government would launch the gold monetisation scheme before Dhanteras.
In his monthly 'Mann ki Baat' radio broadcast, the PM also said peace, harmony and unity were the foundations of progress and the diversity of India was its pride.

Finance Minister Arun Jaitley had announced the government's gold monetisation scheme in the Union Budget of 2015-16.
On Sunday, the PM said the scheme would become effective before the festival of Dhanteras, which will be celebrated on November 9. It is considered auspicious to buy gold on Dhanteras.

The PM said that in India, gold has traditionally been an instrument of economic security.
"But it isn't correct that gold should lie as dead money (in people's homes)," Modi said.
He said the gold kept in homes can be a source of economic prosperity for the country.
He appealed to the people to deposit the gold in banks under the gold monetisation scheme.

"People keep their gold in bank lockers and pay its rent. Now, they can not only earn interest on their gold deposited in banks but also be sure about its safety," the prime minister said.
Modi requested the people to not keep gold in their homes but deposit it in banks to turn it from 'dead money' into a 'life strengthening' tool.
He also said that people should buy sovereign gold bonds instead of actual gold.
He announced the government will release 'India gold coins', weighing five and 10 grams, with imprint of the Ashok Chakra emblem.

The PM also announced that no interviews would be conducted for the non-gazette central government Group B, C and D posts from January 1, 2016.
Modi had first announced this during his Independence Day address this year. He said the step would weed out corruption and the menace of dalals or middlemen in recruitment in these posts.

"People were getting robbed for securing employment and even when they could not get a job.
"It often crossed my mind as to why there was the need for an interview for small jobs.
"I have never heard of a psychologist who can evaluate a person during an interview of one to two minutes," Modi said.

Recently, minister for personnel Jitendra Singh had written to all chief ministers asking them to identify such posts which could be exempted from interviews.

The prime minister didn't directly refer to the recent incidents in the country of communal and caste violence, but said diversity of religions and castes was the beauty of India and that the 'mantra' of unity should be the medium of our thinking, our behaviour and expression.

Modi said the country will mark the birth anniversary of Sardar Vallabhbhai Patel on October 31 as the 'National Unity Day'.
He said Patel unified India by bringing together hundreds of principalities and that "peace, harmony and unity are the keys to progress".

"India is full of diversity. It has different sects, different religions, different languages and different castes.
"There is much diversity in our India and this diversity is our beauty, our pride," the PM said in his 32-minute long radio broadcast.
He said a tribute to Patel on his birth anniversary will be to "take the unity mantra forward".

The PM also spoke about the significance of the third India-Africa Forum Summit that New Delhi is hosting from October 26 to 29, congratulated media groups for supporting his 'clean India' campaign, highlighted the role that children are playing to further the cause of adult literacy in parts of rural India and the contribution of the 'Adarsh Gram Sansad Yojana' to this and also appealed to people to help the cause of organ donation.
The image is used for representational purpose only. Photograph by Reuters