Realty major DLF disclosed another proceeding by Sebi against the company, even as it has challenged the regulator's order in a case related to violation of IPO disclosure norms.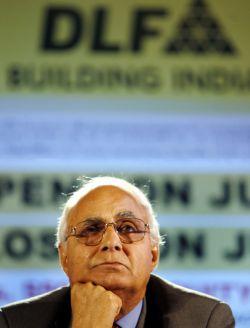 While the details of the case could not be ascertained, DLF said that it has already made its submissions to Sebi and hearings have concluded with regard to a show-cause notice issued to it by the capital markets watchdog in August 2013.
"The order from SEBI on the said notice is awaited," DLF said in its financial results for second quarter ended September 30 this fiscal.
This notice was issued by Sebi on August 28, 2013, while the regulator had already passed its order against DLF and six others last month with regard to a notice issued on June 25, 2013.
Giving details of both the notices, DLF said it had replied to the notice in the first case and made further submissions, but the regulator rejected the company's stand and passed an order dated October 10, 2014 restraining the company and six others from capital markets for three years.
"SEBI also issued a SCN (show-cause notice) dated August 28, 2013 under Sections 15HA and 15HB of the SEBI Act, 1992 and under Rule 4 of the SEBI (procedure for Holding Inquiry and Imposing Penalties by Adjudicating Officer) Rules, 1995 ("Adjudication Rules"), hearing on which has been completed and the company has filed its written synopsis/submissions. The order from SEBI on the said notice is awaited," DLF said.
While section 15 HA deals with "penalty for fraudulent and unfair trade practices", the section 15HB relates to "penalty for contravention where no separate penalty has been provided".
In the first case, DLF and its six top executives, including chairman and main promoter K P Singh, were found to have indulged in "active and deliberate suppression" of material information at the time of its IPO in 2007.
Within days of Sebi order, India's largest realty firm had approached the Securities Appellate Tribunal (SAT) which has granted an interim relief.
Giving an update on this case, DLF said, "Tribunal has taken the case on expeditious hearing and directed SEBI to file its reply to the appeal within four weeks and has listed the appeal for final hearing on December 10, 2014.
"Meanwhile, the company applied for certain interim reliefs from SAT to redeem its mutual fund investments, which has been granted by SAT on November O5, 2014."
With regard to both the cases, DLF said that "the company and its legal advisors believe that it has not acted in contravention of law either during its initial public offer or otherwise.
"The company has full faith in the judicial process and is confident of vindication of its stand in the near future."