A major scam hit the Commonwealth Games on Friday with allegations being made that a substantial sum of money was transferred to a little known British company from the Games Organising Committee about which the UK government has raised questions.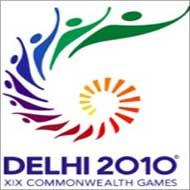 Television channels reported that over pound 450,000 were transferred through a British bank to the A M Films, said to be a one man show, which was also receiving pound 25,000 a month.
'Times Now' quoted documents to show that the entire deal came to light when the OC asked for a VAT refund of pound 14,000 in March this year for the payments made to the British company.
The channel quoted a letter of the British Revenue and Customs Department to the Indian High Commission stating that there was no written contract between the CWG and A M Films and that no tendering procedure has been followed and there was no paperwork regarding the contract.
The OC is reported to have made a payment of nearly pound 250,000 for video equipment purchase while A M Films has claimed that it provided services of car hire, makeshift toilets, barriers and electricity.
Indian High Commission sources said the information provided by the UK authorities had been forwarded to the sports ministry for follow-up action.
"The UK authorities had referred some matter regarding A M Films to us. We passed on the information to the Indian government. The matter is now with the Indian government," the sources said.
In Delhi, Cabinet secretary K M Chandrashekhar has conveyed concern over the charges as well as delay in preparations to the Organising Committee of the mega sporting event in October this year.
Chandrashekhar held a review meeting on Friday which was attended by secretaries of agencies concerned, including officials of the CWG Organising Committee, youth and sports ministry, urban development ministry and tourism ministry.
His remarks come close on the heels of the Central Vigilance Commission asking its officers to re-examine all the tenders and procurement process related to the projects.
Enforcement Directorate sources in Delhi said the agency was probing the issue.
The company was involved in the arrangements for the Queen's Baton Relay when it started its journey from London with a function outside the Buckingham Palace.
Late in the night, the OC refuted the allegations about financial irregularities with relation to the launch of the QBR in London on Octobr 29 last year.
"We must point out that we have not received any official communication in this regard," it said in a statement.