Industry estimates over 30 tonnes of gold were sold on Akshaya Tritiya this time.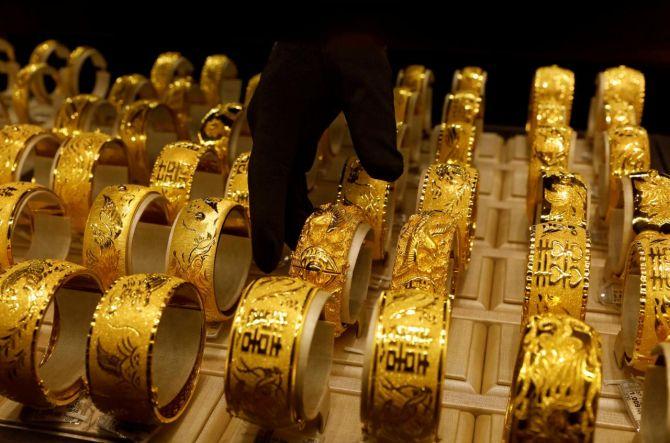 "In my 42 years in the bullion industry, I have seen many economic crises but Akshaya Tritiya was never so dull," said Prithviraj Kothari, national president of India Bullion and Jewellers Association.
As the COVID-hit India is in lockdown since the last week of March, jewellery and gold have not been on the government's priority.
Investors seating on cash want to buy only gold as they think it is the only asset that could give them return in times of crisis.
After a long period of consolidation, those who bought gold last year have earned 47.4 per cent return, the highest after 2005.
Industry estimates over 30 tonnes of gold were sold on Akshaya Tritiya this time.
"Marriages have also been postponed this year.
"A million marriages would happen on this day and now the next marriage season is only after Diwali," said Kothari.
Even organised jewellery retail chains echoed similar feelings.
Ajoy Chawla, CEO of Titan's jewellery division, said: "This is a very different Akshaya Tritiya in the last 26 years. With all our 328 Tanishq stores being shut, we have had to reach out to our customers over phones and digitally.
"We have been open on 'tanishq.co.in' and customers can order online.
"We will be able to deliver them only after the government permits e-commerce deliveries."
Chawla, however, said online traffic had been huge in the past one week.
"We have had around 1 million+ visitors and our average ticket size has grown 2.5 times of the regular online ticket size," he said.
Many other organised jewellers are experimenting with online sales this Akshaya Tritiya.
Digital gold platforms like Safe Gold, Augmont, and Paytm are offering digital gold as the concern of delivery doesn't arise.
Respective platform's trustee companies take care of gold's custody.
However, all types of online sales put together is estimated not even a tonne compared to over 30 tonnes of sales last year.
What is interesting is that number of people making online inquiries have increased significantly.
Many industry leaders say online inquiries suggest that it indicates how future trend for jewelry selling will evolve.
Vikas Singh, MD & CEO of MMTC PAMP, said: "It's e-Akshay Tritiya this time. We have seen a sharp jump in orders from digital gold selling platforms.
"The response from these platforms, to whom we provide gold and store on their behalf, is higher than in the recent past and also a year ago.
"Digital gold is emerging as a way of life, especially for the millennials."
However, the issues of regulating digital gold platforms still remain.
Somasundaram PR, managing director (India) of World Gold Council, said high gold prices, logistical constraints on delivery, uncertainties surrounding wedding schedules, income anxieties, and lockdown are seriously restricting gold demand.
"Digital platforms like SafeGold and MMTC-PAMP could facilitate customary token purchases in urban areas and support the tradition but they are unlikely to be a significant alternative to 'brick and mortar' sales."
Hopefully, he said, this Akshaya Tritiya could ring in a digital transformation of the industry.
"If these digital transactions sustain in due course, it will be good for monetising gold, but this can happen only with an acceptable regulatory framework to protect consumer interests."
Today being a Sunday is another roadblock for the sale.
Kothari said with stock exchanges closed, "gold demand by way of exchange traded funds (ETFs) also gone."
Last year on the BSE and NSE, gold worth Rs 25 crore was purchased with the trading volume of 653 kg.
Even sovereign gold bonds are purchased from stock exchanges on this day.
The latest issue of sovereign gold bonds ended Friday is said to have very good response from retail high net worth investors.
Photograph: Tyrone Siu/Reuters