With the government reducing the net worth for new entities in fuel-marketing space to Rs 250 crore, the market is open for new players like Total, Adani, and Saudi Aramco -- and even supermarkets – to open fuel outlets.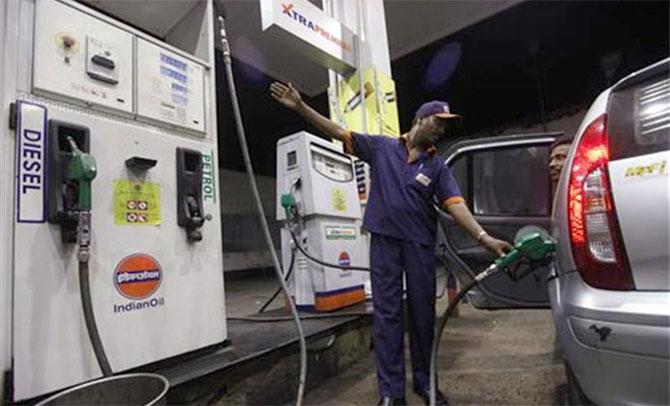 Paving the way for the entry of new players in the fuel-marketing space, the government on Wednesday scrapped a rule that mandated a company to commit at least Rs 2,000-crore investment in the petroleum sector. With this, newer players like Total, Adani, and Saudi Aramco -- and even supermarkets -- can open outlets for selling automobile fuel.
Entities seeking authorisation will now need to have a minimum net worth of Rs 250 crore only.
Authorised entities will, however, have to meet certain conditions such as setting up a minimum 5 per cent of their retail outlets in the notified remote areas within five years of grant of authorisation.
A mechanism has been set up to monitor this obligation. Besides, these entities will be required to install facilities for marketing at least one new-generation alternative fuel, such as CNG, LNG, and biofuel, at their retail outlets within three years of operationalisation of outlets selling conventional fuel.
The Cabinet Committee on Economic Affairs (CCEA) approved the changes on Wednesday under the Review of Guidelines for Granting Authorisation to market Transportation Fuels.
"The existing policy for granting authorisation to market transportation fuels had not undergone any change for the last 17 years since 2002. It has now been revised to bring it in line with the changing market dynamics and with a view to encourage investment from private players, including foreign players, in this sector," said a government press release.
While Total has tied up with Adani for fuel marketing, BP and Reliance Industries have announced a new venture for marketing automobile fuel and electric charging.
The deregulation of petrol and diesel has enabled private retailers to compete with government-owned oil-marketing companies (OMCs), but the current differentiator is only services being offered at the outlets.
These companies charge almost the same rates linked to the global price. There isn't much scope for competing on price since the market is price-sensitive.
An individual will be allowed to obtain dealership of more than one marketing company in the case of open dealerships of PSU OMCs, but at different sites.
According to B S Canth, former director, marketing, IndianOil, only companies with deep pockets will be interested in investing in this business, even though the net worth criteria is just Rs 250 crore.
"There are issues like logistics and ensuring outlets are adequately supplied, which companies with good investment appetite can handle," he said.
Entities seeking market authorisation for petrol and diesel are allowed to apply for retail and bulk authorisation separately or both. Companies have been given flexibility of setting up a joint venture or subsidiary for market authorisation.
The government expects more private players, including foreign players, to invest in retail fuel marketing, leading to better competition and better services for consumers.
Canth said the purpose of opening up the sector was to bring in competition, so even the existing players will fight back with new offerings and technology. New entities will bring in latest technology for marketing of fuels and also encourage digital payments at the ROs.
As of April 2019, there were 64,625 retail outlets, including those of OMCs and private companies.
In March, the government had set up a committee to review the 2002 guidelines on grant of transport fuel-marketing licence.
The panel, which submitted its report in May, favoured ending minimum investment by companies as the condition for giving authorisation while introducing minimum net worth bar for licence-seekers.
It also suggested opening up the sector to non-oil companies, imposing strict timelines for setting up petrol pumps, and penalties for not meeting targets.
As of April, there were 64,625 retail outlets, including those of OMCs and private companies.
Photograph: Danish Siddiqui/Reuters.