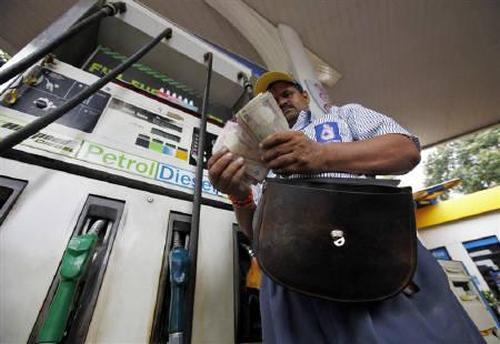 Less than 20 months after a cashback was offered at petrol pumps to promote digital payment, the incentive has been cut to 0.25 per cent from 0.75 per cent, people with knowledge of the development said.
Beginning December 13, 2016, a discount of 0.75 per cent was offered to those using plastic money to buy petrol and diesel. This discount was given by way of cashback, which has been credited to the buyer's account within three days of the transaction.
Oil companies have now informed the petrol pump operators that the discount has been cut to 0.25 per cent, they said citing mobile text message sent to petrol pump operators.
'Dear Business Partner, Kindly note and inform your all customers that Digital Cashback has been revised from 0.75 per cent to 0.25 per cent with effect from August 1, 2018 across oil industry for all loyalty customers,' said the text message sent by State-owned oil companies to petrol pump operators.
The 0.75 per cent discount on payments made using either credit/debit cards, e-wallets or mobile wallets translated into a rebate of 57 paisa a litre on petrol and 50 paisa on diesel. The discount is now reduced to about 19 paisa on petrol and 17 paisa on diesel.
Petrol is currently sold at Rs 76.43 per litre in Delhi, while a litre of diesel costs Rs 67.93.
Exactly a month after the shock demonetisation of old 500 and 1,000 rupee notes, the government had on December 8, 2016, announced a raft of measures, including discounts on online payments for insurance policies, rail tickets and highway toll charges as the government looked to promote digital cash post note ban.
At that time it was stated that 4.5 crore consumers buy petrol and diesel worth Rs 1,800 crore daily and in one-month post-demonetisation, digital payments had doubled to 40 per cent.
'As a part of these initiatives, to promote cashless transactions Government of India has announced to incentivise petrol/diesel customers transacting at PSU petrol pumps by way of 0.75 per cent discount when a customer uses Debit/Credit Cards, Mobile Wallets and Prepaid Loyalty Cards,' it was announced then.
Sources said as cash came back into system, digital payments have declined.
A similar cut in incentive on digital payments may be in offing for other services that got the benefit in the December 2016 announcement.
In December 2016, a 10 per cent discount on general insurance products purchased online and eight per cent on life insurance bought online was announced. Railway passengers were encouraged to go cashless with a 0.5 per cent discount on monthly and seasonal tickets for suburban railway networks. The railways was also to give a 5 per cent discount for services like catering and use of waiting rooms, if purchased digitally.
People who paid digitally or used prepaid cards got a 10 per cent discount at toll plazas on highways.
Also, a waiver of service tax on use of credit or debit card for payments up to Rs 2,000 was announced then. A 15 per cent tax was charged on such transactions in December 2016.
In December last year, the government announced that it will bear the MDR charges on transactions up to Rs 2,000 made through debit cards, BHIM UPI or Aadhaar-enabled payment systems to promote digital transactions.
The merchant discount rate (MDR) will be borne by the government for two years with effect from January 1, 2018, by reimbursing the same to the banks, it was announced.
Photograph: Danish Siddiqui/Reuters.