The dealers are protesting against the use of petrol pumps for government campaigns and seeking of personal data of over a million people working there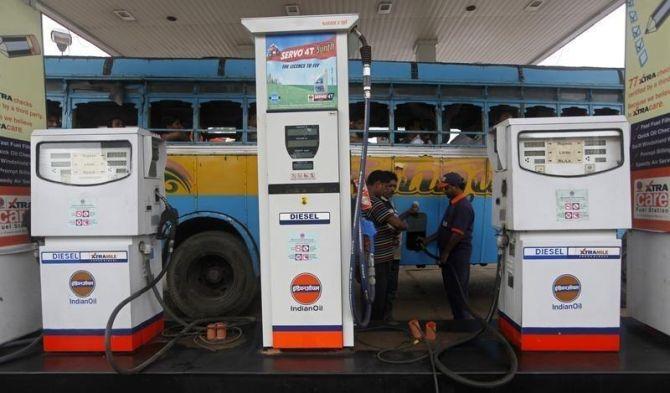 The battle between petroleum dealers and oil marketing companies has intensified, with the former coming out in public against the use of petrol pumps for government campaigns and seeking of personal data of over a million people working in petrol pumps across the country.
The Consortium of Indian Petroleum Dealers (CIPD) said the oil companies have threatened to choke supply, if they are not ready to provide sensitive data of their employees.
"These include their religion, caste, voting constituency, Aadhaar, bank account numbers, PAN numbers and number of family members, among others. This is a breach of privacy, as they are not government employees," said Uday Lodh, vice-president of CIPD.
Though OMCs have sought the data to profile them for skill development, petrol pump owners said this could be misused.
Moreover, pump owners allege that they were asked to put the pictures of Prime Minister Narendra Modi in every retail outlet, in addition to the advertisements and hoardings that oil companies place at the pumps.
"Hoardings are put at petrol pumps to publicise government schemes and products of companies. We don't have any problem with that as majority of outlets are company-owned dealer operated," he added.
According to data available with the Petroleum Planning and Analysis Cell in July, there are 63,088 fuel retail outlets in India.
Of this, 27,229 pumps are under Indian Oil Corporation, 14,496 under Bharat Petroleum Corporation and 15,151 by Hindustan Petroleum Corporation.
The remaining outlets are owned by private sector players - including 1,400 by Reliance Industries, 4,692 by Nayara Energy (formerly known as Essar oil), 114 by Shell and six by others.
"Through the advertisements for government campaigns with political intent, OMCs are losing huge revenue, as majority of these outlets are in prime localities," said a member of All India Petroleum Dealers' Association (AIPDA).
This comes at a time when dealers are fighting a case in the Delhi high court against the rule set by OMCs to pay central minimum wages to outlet attendants.
In August 2017, OMCs increased dealer margins by 55 per cent through a formula allocating higher commission per litre to outlets having low sales volume and also insisted that a part of the margin was meant to ensure central minimum wages for attendants.
However, dealers from 17 states approached respective high courts and got a stay.
Dealers are of the opinion that only state minimum wages are applicable to them. Earlier, an average of wages fixed by the states was paid to employees.
Associations are of the view that this would lead to an increase in pay package to around Rs 14,000-15,000 per employee, compared to around Rs 9,000-10,000 now.
Besides, the number of employees has been specified according to the sale volume.
Outlets with more than 170 kilolitres monthly sales should employ 16 people, which has also been challenged by associations.
Photograph: Rupak De Chowdhury/Reuters