The savings would be better spent and might actually reach the poor, says Rahul Khullar, in the second of two articles.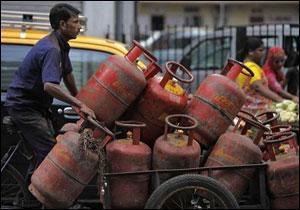 Simple proposals to reform subsidies and redirect expenditure can yield high returns.

And the savings realised are substantial. On a conservative basis, the proposals outlined here will yield annual savings of Rs 20,000 crore (2015-16), Rs 60,000 crore (2016-17) and Rs 1 lakh crore (2017-18).
LPG attracts a total subsidy of Rs 22,000 crore. By no stretch of imagination is this for the poor.

Effectively, it is an annual grant of Rs 2,000-2,500 for every non-poor (read rich) household. And, it would have been Rs 7,000-8,000, if oil prices had not plummeted.

The cost per cylinder (14.2 kg) is Rs 585, whereas the price is Rs 418 per cylinder. The price was Rs 345 per cylinder in 2010.

Had prices been increased at 10 per cent per annum (the inflation rate since 2010) the price would have been Rs 550 per cylinder today.

In January 2014, the price was Rs 414 per cylinder; it hasn't changed in two years. An upfront increase is clearly in order.
The proposal: Immediately hike the price to Rs 460 per cylinder (a 10 per cent increase); the price should be increased by Rs 5 per cylinder per month starting April 1, 2016.

This will almost entirely eliminate the subsidy over two fiscal years, that is, by March 31, 2018. Decontrol LPG prices with effect from April 1, 2018. This proposal will yield annual savings of Rs 5,500 crore, Rs 13,350 crore and Rs 21,500 crore in the fiscal years up to 2017-18.
On food, the subsidy amounts to Rs 1.25 lakh crore.

It has doubled since 2010-11 because of the growing divergence between procurement costs [minimum support price (MSP)] and central issue prices (CIP), an open-ended procurement, higher procurement-linked costs and an expanded coverage.
The CIP for below-poverty-line (BPL) households per quintal are Rs 415 for wheat and Rs 565 for rice.

The estimated economic costs per quintal of the Food Corporation of India (FCI) are Rs 3,000 for rice and Rs 2,200 for wheat. Since 2002 there has been no change in the CIPs.

During 2002- 15, the MSP of wheat increased from Rs 620 to Rs 1,400 (125 per cent) and for paddy from Rs 530 to Rs 1,410 (166 per cent).

Today, the subsidy is 81 per cent of the economic cost.

The subsidy in 2002 was 45 per cent (wheat) and 48 per cent (rice). For above-poverty-line (APL) households, the subsidy has tripled since 2002 and risen from 34 per cent to 63 per cent of the economic cost.
Since 2002, there has been a substantial reduction in the incidence of poverty. If 45 per cent subsidy was deemed sufficient in 2002, what is the justification to raise it to over 80 per cent?

Second, the poor do not live on staples alone. The annual inflation on other items of food has been in the range of 7-12 per cent. Surveys show that even the poorest of the poor spend only 35 per cent of their food expenditure on cereals.

If so, why should the CIPs remain frozen? The National Food Security Act (NFSA) expands coverage to two-thirds of the population.
APL households are also covered, which means prices are to be reduced. Entitlements for the abject poor (Antyodaya) at very low prices are justified. But, not for all BPL households.

And, certainly not for APL households. The Shanta Kumar Committee (hereafter, the Committee) report has correctly argued that the NFSA coverage needs urgent and immediate review.

In the present form, it is unjustifiable, fiscally unsustainable and administratively impractical.
The total procurement-linked costs have also risen. The FCI is carrying larger stocks than necessary; current levels are far in excess of buffer stock requirements.

This entails higher interest, storage, transport and handling costs as well as storage losses.

The Committee has brought out that the procurement system has worked primarily to the benefit of 'big' farmers in the north-western states (and a few other states).

A meagre six per cent of all farmers sell their produce to the FCI. It is, therefore, a myth that the FCI procurement benefits all (or many) farmers.

The Committee has given sensible suggestions on how to reduce these costs. However, at heart, the issue is how to cap total procurement.
The proposal: Increase CIP for wheat and rice to Rs 7.25 and Rs 9 per kg respectively.

This amounts to an increase of four per cent per annum over 2002-15. Announce an increase in the CIP by 25 paisa per kg every month starting April 1, 2016.

For Antyodaya households, prices as under the Act with an increase of 20 paisa per kg per month starting April 1, 2016. For APL households, increase CIP to Rs 9 per kg for wheat and Rs 10.50 per kg for rice immediately to be followed by increases of 50 paisa per kg every month starting April 1, 2016. (Taking into account MSP increase etc, the subsidy for BPL households at the end of 2018 would be 55 per cent.)
Other measures that ought to be taken include no open-ended procurement; cap procurement to meet buffer stock requirements and Public Distribution System (PDS) needs (at most 50 million tonnes); shift procurement to eastern regions; an implicit ceiling on procurement from north-western states (and Andhra Pradesh, Chhattisgarh and Madhya Pradesh).

Surplus states should move to decentralised procurement to meet their own PDS requirements and other suggestions of the Committee should be acted upon within three months.
The savings on subsidies are better spent on reaching the poor with a focus on employment, skills (learning), housing and safety nets and improving rural infrastructure.

Accordingly, announce increased outlays (in per cent) (total outlays to be maintained in 2016-17): (i) MGNREGA by Rs 15,000 crore (45 per cent); (ii) National Rural Livelihood Mission by Rs 2,500 crore (100 per cent); (iii) Indira Awas Yojana by Rs 9,500 crore (100 per cent); (iv) National Social Assistance Programme by Rs 4,500 crore (50 per cent); (v) Scholarship for SC, ST, OBCs and minorities by Rs 3,000 crore (63 per cent); (vi) Pradhan Mantri Gram Sadak Yojana by Rs 10,000 crore (100 per cent); (vii) Pradhan Mantri Krishi Sinchai Yojana by Rs 5,000 crore (100 per cent); and (viii) Rashtriya Krishi Vikas Yojana by Rs 4,500 crore (100 per cent).
Wasteful subsidies that do not reach the poor can be reduced. The savings can be better spent and can actually reach the poor.

Yes, a political vocabulary has to be devised to deliver this message. Mr Prime Minister, who better than you to do that? It is time to get going.
The author is ex-chairman, Telecom Regulatory Authority of India.