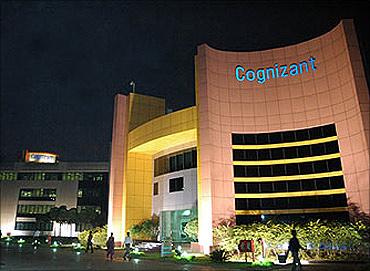 IT services firm Cognizant on Wednesday posted 12.9 per cent increase in net profit to $420.1 million for the second quarter this year, revising revenue growth guidance to 20.1 per cent for the fiscal.
The US-based firm, which has major presence in India, had reported net profit of $ 371.9 million in the year-ago period, it said.
Its revenues for the April-June quarter of 2015 rose by 22.6 per cent to $3.09 billion as against $2.52 billion in the year-ago period, beating its own estimate.
Revenue was up over 6 per cent from $2.91 in the January-March quarter. Cognizant follows January-December as its fiscal year.
"Our second quarter sequential revenue increase in dollar terms was the strongest in our history. These results validate that our business strategy and our investments position us well to capture the emerging opportunities as clients look to transform into digital businesses," Cognizant CEO Francisco D'Souza said.
For the quarter, Cognizant had said earlier it expects revenues to be "at least $3.01 billion".
Cognizant has raised its revenue guidance for 2015 to $12.33 billion, up at least 20.1 per cent compared to 2014 (from $12.24 billion or 19.3 per cent growth). For the July-September quarter, Cognizant expects its revenue to be at least $3.14 billion.
"Our strong performance has allowed us to raise our full year revenue and EPS guidance for the second time this year, despite the impact to our full year revenues from the announcement that Health Net would be acquired by Centene Corporation," Cognizant CFO Karen McLoughlin said.
Last month, Cognizant had anticipated a $100 million hit to its incremental revenue in July-December of 2015 stating that it expected its $2.7 billion contract with Health Net may not be implemented if the latter is acquired by Centene Corporation.
"We continue to optimise our existing services and aggressively invest in new services to enable clients to drive higher levels of operational efficiency. These new solutions, being developed and deployed across all of our major business units, are fundamentally changing business models," Cognizant President Gordon Coburn said.
With over 100 development and delivery centres worldwide, Cognizant has about 218,000 employees as of June 30, 2015.