Civil airlines may soon get new air routes between cities in India, which could cut flying hours. The government is planning to open restricted airspace for flexible use by civilian airplanes, a move that will increase airspace capacity, according to Airports Authority of India (AAI) officials.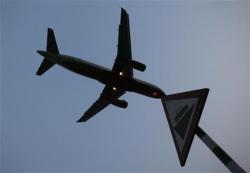 AAI, the country's military an d air navigation service providers have joined hands for allowing flexible use of restricted Indian airspace.

The move is a part of the Central Air Traffic Flow Management (C-ATFM) system that the airport regulator is expected to put in place by 2014.

Restricted airspace is an area over which the local controlling authorities limit movement of aircraft for safety concerns or security reasons.

Flexible use means airspace would not be designated as purely civil or military airspace but be allocated according to user requirements.

"Last month, AAI approved the C-ATFM system, taking all stakeholders - defence, airlines, airport operators, international partners - on board," a senior AAI official said, requesting anonymity.

Under this system, stakeholders will feed information to a central command centre and co-ordination among these will be automated. The procurement
of hardware and software for the central command centre is yet to be done, the official added.
"A high-level committee is likely to be formed to decide how the airspace will be managed in the subcontinent. Of the 35 per cent restricted airspace, a decision is yet to be taken on restricted pockets that will be released and permitted for dynamic use between defence and civil aviation," another AAI official said, on condition of anonymity.
Airlines burn extra fuel and take more flying time when they have to fly around a restricted zone or circle around the destination due to bad weather or congestion at the airport.
The C-ATFM system seeks to open newer air routes for flights. With this in place, a civil aircraft will be able to use a relatively straighter and shorter path between its origin and destination.
"With all stakeholders pouring in information at the central command system, the demand and capacity mismatch between the airspace and ground will be addressed by integrating various operational constraints and weather parameters. With this, the wastage of fuel and time will be minimised on air," said the official.
Experts said the spin-off of this move could be that customers might have to shell out less money for air travel, with less fuel wastage for airlines.