China's inflation rate eased to 6.2 per cent in August from a 37-month high amid cooling down of demand in the world's fastest growing economy and global uncertainties.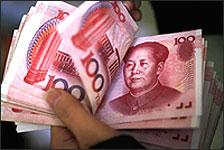 The consumer price index (CPI), the main gauge of inflation, fell to 6.2 per cent in August, the National Bureau of Statistics (NBS) said on Friday.

The CPI surged to 6.5 per cent in July, driven mostly by food prices, which had jumped 14.8 per cent vis-a-vis the year-ago period.

The NBS also said food inflation declined marginally to 13.4 per cent in August.

The CPI figure was far above the Chinese government's full-year target of 4 per cent inflation for 2011.

To
curb soaring inflation, the People's Bank of China, the country's central bank, has raised the benchmark interest rate three times this year and increased the reserve requirement ratio six times.
"The Chinese economy is slowing down due to a slew of tightening policies and debt woes in Europe and the US add to uncertainties in the global economy, so the government will observe for a while before introducing more macro measures," Ba Shusong, a researcher with the Development Research Centre of China's Cabinet, told Xinhua news agency.
The Producer Price Index, which is used to calculate inflation at the wholesale level, jumped 7.3 per cent year-on-year in August.