The country's growth in 2013-14 would be less than six per cent, said 67 per cent of the chief financial officers (CFOs) of leading industrial houses who took part in a survey.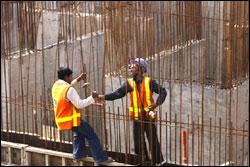 While being "cautiously optimistic" about the country's economic growth, they said corruption and bureaucracy are among the "big concerns" of the industry.
In a survey of 32 CFOs, conducted by the Confederation of Indian Industry and McKinsey & Co, a little over 50 per cent of the respondents said the Euro zone crisis, followed by slowdown in the US and increasing oil prices are expected to create the biggest impact on the Indian economy in the next financial year.
Recently, Finance Minister P Chidambaram had hinted at lower growth in the coming years, saying the gross domestic product growth in the second half of the financial year would be between 5.5 and six per cent.
The Reserve Bank of India had in its half yearly review of the monetary policy sharply lowered this year's economic growth projection to 5.8 per cent, from 6.5 per cent.
In the survey, the CFOs called for transparency in governance with zero tolerance for corruption. "India now has the dubious distinction of being among the most corrupt governments in the world," the survey said.
India Against Corruption, the social activists' group led by Arvind Kejriwal, has in recent weeks alleged some of the largest companies in the country had accumulated black money, and highlighted instances of corruption in political and business circles.
Appreciating the recent reform measures taken by the government, the survey said the key enablers to fuel economic growth include increased foreign direct investment, reduced fiscal deficit and enabling corporate growth.
Further, 52 per cent of the CFOs said the proposed General Anti-Avoidance Rules was a step in the wrong direction. About 80 per cent of the respondents, said they expect their company's top-line growth this year to be same as last year's.
CFOs from sectors such as manufacturing, information technology, services, consultancy and financial services were part of the survey, the Confederation of Indian Industry statement said.