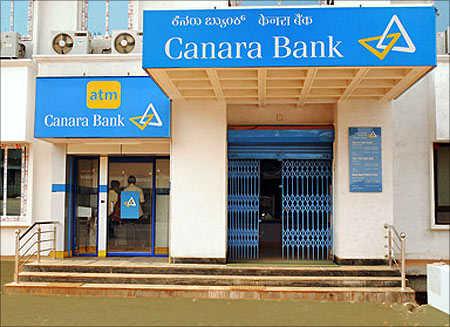 The National Democratic Alliance (NDA) government on Monday scrapped the selection of six chiefs of public sector banks, recommended under the United Progressive Alliance (UPA) regime, following a high-level panel finding irregularities in the process followed.
The probe into selections for banks such as Bank of Baroda and Canara Bank followed the arrest of tainted Syndicate Bank Chairman and Managing Director (CMD) S K Jain for alleged graft.
Earlier, the government had constituted a committee comprising Raghuram Rajan, governor of the Reserve Bank of India (RBI); expenditure secretary Ratan Watal; and the secretary for school education and literacy in this regard.
"After the receipt of the report of the committee, the government decided to cancel the current selection process of CMDs and EDs (executive directors) of public sector banks. As a result, eight CMD posts and 14 posts of EDs will have to be filled up de novo," said a statement by the finance ministry.
During the UPA regime, a panel headed by the RBI governor and including the financial services secretary had shortlisted CMDs for Bank of Baroda, Canara Bank, Indian Overseas Bank, Oriental Bank of Commerce, United Bank and Vijaya Bank. The names selected by the panel had been sent to the finance ministry for ratification by the Appointments Committee of the Cabinet.
But the government decided to scrap the entire selection process and fill these vacancies, as well as two others, through a fresh selection process.
Though the vacancy for Vijaya Bank is to come up in December, the selection was made in advance. Besides, the post of Syndicate Bank CMD fell vacant, after the arrest and termination of Jain over charges of corruption. The post of Punjab National Bank CMD is also likely to be vacant later this year.
Earlier, Finance Minister Arun Jaitley had written on this issue to both Rajan, who heads the appointment board that selects state-run bank chiefs, and Cabinet Secretary Ajit Seth, whose office processes all papers for the Appointments Committee of the Cabinet.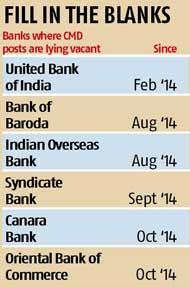 It was alleged some of the appointments processed towards the end of the UPA government's term were questionable. In a letter to the finance ministry, Central Bureau of Investigation chief Ranjit Sinha had pointed to irregularities during the agency's probe of irregularities at Syndicate Bank, sources said.
Sinha had apparently said Jain was appointed despite having "poor" appraisals in his confidential reports.
Candidates for such posts are selected on the basis of an appraisal of the confidential reports, followed by an interview (the marks for these are in the ration 70:30).
Earlier this year, the Central Vigilance Commission had refused to clear the latest list of EDs till it was provided a government clarification on the names.