Naresh Goyal, after being ousted with his wife from the board last week, and with his shareholding halved to 25 per cent, can still make a comeback by partnering a new investor and win back majority control.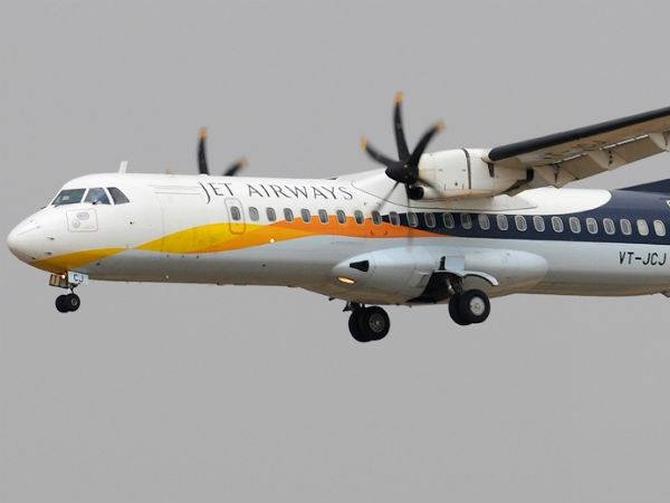 Will India's aviation business change fundamentally if Jet Airways is sold to a strategic buyer?
The answer depends on who wins the auction, planned by lenders to sell their 51 per cent stake.
It is 'yes' if the new strategic investor does not only buy out the lenders' stake but also that of promoter Naresh Goyal and, maybe, even Etihad's.
It's 'no' if Goyal, after being ousted with his wife from the board last week, and with his shareholding halved to 25 per cent, can make a comeback by partnering a new investor and win back majority control.
Looking at the airline business from the angle of passenger growth, it is on a roll among the fastest-growing markets in the world.
But from the point of view of six major airlines with red ink splashed over their ledgers, the story is different.
The solution is consolidation, similar to what happened in telecom, where the number of players has halved from eight to four in two years after Reliance Jio's price war made the business unsustainable for some.
Jet Airways suffered the same problem: Of a fierce price war that eroded the margins.
The finance ministry has even tried to intervene by asking the airlines to stop selling fares below cost, but the fear of losing market share prompted them to ignore the warning.
There has been apprehension that Goyal, with 25 per cent, can baulk at any decision of the board through his two other nominees when a new investor comes in.
However, SBI Chairman Rajneesh Kumar said in a TV interview the choice to buy Etihad's or Goyal's stake would be solely with the new investor and not with the promoters or its former airline partner.
He also made it clear the potential new player would face no bottleneck.
However, Goyal, like anyone else, can bid for the stake alone or with a partner.
The lenders have preferred to go for the sale of the company rather than an easier option of asset sale, but that would mean job loss.
But analysts say companies like Tata and IndiGo, both of which had considered buying Air India's for its international routes and domestic slots, could be interested.
So could Indian big houses like that of Mukesh Ambani, who, through the acquisition, could get a firmer foothold in the lucrative aviation turbine fuel business.
Or Adani, which have bid aggressively to win bids to run six airports.
Consolidation is necessary for airlines.
Domestic passenger growth, according to CAPA, is expected to grow 14-16 per cent in FY20.
That is over and above the 16-18 per cent growth in FY19, say industry despite the grounding of planes by IndiGo, SpiceJet and Jet Airways.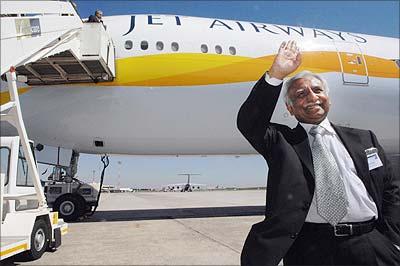 Yet the six airlines are expected to lose over $1.7 billion in FY19, partly because of high fuel cost (which cooled only in the second half of the year) and overcapacity, forcing yields to come down (Jet grounding its flights in March could push fares up and lessen losses).
But despite stringent cost control, the big three non-frills carriers -- IndiGo, SpiceJet and GoAir -- are projected to move from a profit of $330 million FY18 to a loss of $200 million FY19, a swing of $500 million for a full year, says CAPA.
Experts don't see the scenario changing much.
In FY20 the planned capacity expansion, led by IndiGo, would be around 20 per cent per annually, much higher than passenger growth.
As many as 90 new planes are expected to be added to airlines' fleet in 12 months with IndiGo, leading the group.
To fill capacity in these planes, airlines will have only one option -- offer cut-throat fares.
That is why CAPA projects airlines to lose $700 million in FY20 -- if oil prices don't shoot up again.
If the banks had decided on a quicker asset sale, which many Indian carriers prefer, the routes and slots as well as whatever remains of the plane leases could be distributed among the existing players.
And that would mean quicker consolidation. But that is clearly not happening.
But analysts say that they expect that Jet sale could kick off consolidation -- from six players down to three or four -- with IndiGo and Tata getting bigger.
Goyal, with 25 per cent, can try and rope in new global partner replacing Etihad and bid together to get Jet back.
Of course he could tie up with one of the Indian business houses, even if it means being the junior partner, as the government is keen to see an Indian business house running the airline.
This could offer opportunities to players like Adanis or the Ambani's to join the race say analysts.
But these businesses houses are also likely to bid on their own and take control.
And Goyal would find it very difficult to arrange finances after the debacle of the company which he ran.
Buying the airline as well as the two other shareholders in Goyal and Etihad and take control could be an option also for the Tatas.
The group has already put together a long term aviation strategy in place.
It already has a JV with Singapore Airlines in Vistara to run its FSC business for which it has got permission now to fly abroad recently.
It has now taken majority stake in its LCC business Air Asia India where it is firmly on the saddle and are finalising plans for its expansion to the international skies sometimes this year.
Buying Jet assets would give Vistara a big head start in the international skies for which they have received permission just a few days ago as it will give them ready made slots to fly.
The executive also says that it would give Vistara also a larger domestic network, where their share is still very small. "In the end Tatas could find ways to consolidate the airlines FSC and LCC business," he points out.
They might not be the only ones say some aviation analysts -- after all, IndiGo had earlier shown interest in buying Air India's international business despite its large employee base and debt.
And it is also now focusing on flying mid haul direct flights across Europe, south east Asia among others.
Also with bilateral seats between India and west Asian countries more or less exhausted from India too, Vistara could well use Jet's rights to get over the problem.